Muscat Blanc
"Torsten and Julian have this wine blog, and they mostly review sweet wines." This is how a friend introduced the Wine Rambler at a dinner party - much to my surprise as sweet wines make up only a relatively small amount of our wine reviews: not even 1/6 and even with the off-dry ones added we don't quite come to 2/7. Perhaps my outspoken love for Mosel Riesling (which tends to be off-dry or sweet) contributed to this image, or it is just the general perception that German wine is sweet. Instead of fighting this cliché today I shall give in to it. Let's not just drink sweet, let's indulge in sweet.
Ladies and Gentlemen, friends of sweetness and sugar hounds, I give you an ice wine from the Pfalz.
Swabian Muscat, anyone? There's no doubt that solid old Swabia (that's "Württemberg" for you, in wine label terms) can do much: She can do somewhat dubious specialties like Trollinger and Samtrot, harmlessly light regional reds, but then she can also come out with powerful Rieslings and surprisingly high-brow Lembergers and Pinot Noirs. But dry Muscat, that feathery-light, elderflower whiff of springtime? Let's just say it takes a certain leap of faith. To be honest, if this offering had not come from Kistenmacher & Hengerer, an up-and-coming winery that has recently impressed us with the seriousness of their old-vines Lemberger, we might not have given it a chance either.
Have they actually pulled it off?
Ökonomierat Rebholz is certainly a very Germanic sounding name for a winery. 'Ökonomierat' is an old-fashioned German and (not so old-fashioned) Austrian title of honour that literally means 'economical councillor'. The original Ökonomierat Rebholz, Eduard, received it for his impact on viticulture. Now in the third generation, the Rebholz estate is still dedicated to his idea of 'natural wine', shunning practices such as adding of sugar to increase alcohol content and instead focussing on organic methods. It may be best to forget about all this though as the Muscat in front of you is anything but stuffy Germanic or organically preachy. It is just a highly enjoyable wine.
One of the effects of belonging to the German branch of the international brotherhood of wine snobs is that hot-climate whites have a hard time winning your approval. We have largely kept our hands off whites from the south of france, for example. We don't mean to say, of course, that there can be no great whites from down there. But I can say with a good measure of confidence that the wine under review today is not one of them. Its appeal for me lies in a completely different place. So this is less a wine review than a brief comment on liking certain wines in spite of oneself, which leads naturally to a melancholy micro-meditation on memory and irrationality.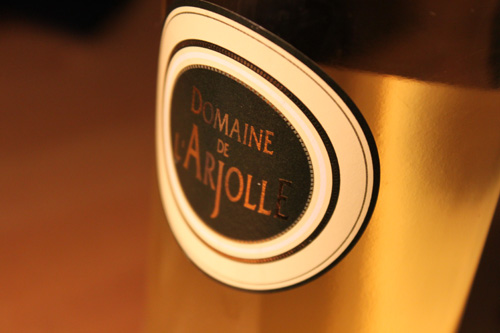 In some ways, the biggest surprise about this wine was that the grape I know as Gelber Muskateller (yellow muscat) seems to be know to English speakers as Muscat blanc à petits grains. Does that mean the wine is unexciting or boring? Not at all.
Pale colour with a greenish touch, still lots of small bubbles, almost algae-like at first. A fresh nose dominated by floral, herbal notes with a decent bit of elderflower and some fruitiness. In the mouth the wine is much drier than you would expect it after that intense floralness, but it still packs a nice bit of fresh acidity, combined with elderflower and some bitter apple. [read the full post...]
I really appreciate how a good sommelier can make an excellent dinner even more memorable. At a previous (and dare I say excellent) dining experience at Tom Aikens the sommelier recommended Rémy Gresser's Brandhof Muscat with fish.
While searching for a UK source for this wine I learned that I am apparently gifted with a special understanding of this kind of wine (or perhaps wine in general), as the wine merchant wrote to me: "The Muscat is essentially a restaurant wine, very few people understand dry Muscat, like you." [read the full post...]