Languedoc
Is this the time when we should start the pre-Christmas season of wine with big hefty reds? No, no, no me brotha. This Wine Rambler abides by his statement of principle: Freshness, freshness, freshness. It's a well-documented fact by now that I am no great fan of the South of France, at least not any more. I've developed a kind of allergy to the overripe cherry and generic dried herbs-approach on offer from there. But there is a style, pioneered mostly, with some hits and misses, by the Gauby family, that I think of as Mediterranean avant-garde: Sprightly, slender-bodied, drinkable reds with a lighter, more focused spectrum of fruit.
Another winery that has moved in this direction is Christophe Peyrus' Clos Marie.
One of the effects of belonging to the German branch of the international brotherhood of wine snobs is that hot-climate whites have a hard time winning your approval. We have largely kept our hands off whites from the south of france, for example. We don't mean to say, of course, that there can be no great whites from down there. But I can say with a good measure of confidence that the wine under review today is not one of them. Its appeal for me lies in a completely different place. So this is less a wine review than a brief comment on liking certain wines in spite of oneself, which leads naturally to a melancholy micro-meditation on memory and irrationality.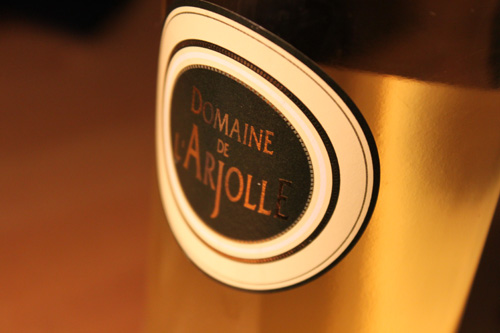 When it comes to french reds - and as I've said before, you can't be a real wine snob unless you can take a sip and say "ahh, zees, my friends, is terroir..." - I've had the distinct feeling for some time now that France is being rolled up for me from south to north. First to go was the southern Rhone. Done. I can't stand this tepid heaviness any more. Then, the more generic Languedoc blends followed suit. Bo-ring. With a lukewarm Gauby experience recently, I've even become doubtful about the Roussillon. So what about Faugères, one of the more characterful Languedoc appellations? Won't say "last try" yet, but let's just say there's some pressure on Alquier, by common agreement one of the very best names in all of southern France.
Two rosés from the languedoc, both predominantly Syrah, with some Grenache, Cinsault and Carignan, one from Paul Mas, via Jacques Weindepot, around 5 €, the other from Olivier Jullien, via K & U, around 12 €.
Up went the brown paper, professionally applied and stylishly decorated by my lovely assistant, who deserves very special mention. Those sharp of eye and quick of wit will quickly see which is which, but for 24 hours, I had no way of knowing. You can follow the links any time you get bored.
Tasted blind here.
Very dark pink.
Smells of raspberries, rose petals, a lot of red and black currants, and a green, fresh touch, as if the leaves and stems of all those fruit had been thrown in as well.
In the mouth, good concentration, very spicy currant fruit again, some wildness, good acidity and a bit of tannin. Fairly long.
Good, seriously made rosé, whith a bit of a rough edge that makes it a food wine much more than a porch sipping wine, but gives it some character. Mind you, rosés are generally not my kind of wine, so I'm not sure I can describe this with any authority. It does seem a bit pricy.
Tasted blind here.
Very dark pink, an impressive colour.
Smells of raspberries, rose petals, but peaches and exotic fruit as well, a certain artificial fruitiness (a little fakey-fake action, as Gary Vaynerchuk would probably say).
In the mouth, full-bodied and smooth, pleasantly fruity, very easy to drink, but with a bit of a hole in the middle, not too long.
Good rosé, certainly convincing for its price, that many people will enjoy for summer sipping. Not the world's greates fan of rosés in general, I'm not blown away, but I can think of worse beverages for an august evening.
So here I sit, listening to Billy Bragg and Wilco, waiting for a Riesling to reach drinking temperature, and I am really pleased with this French red. The winery, Domaine les Filles de Septembre, was named after the four daughters of wine makers Françoise and Roland Géraud. And Delphine is one of the four. If she is anything like this cuvée of Syrah and Carignan, she must be lovely indeed. [read the full post...]