Dr. Heger
If you follow this blog regularly (and if not: why not?), you will know that the VDP, Germany's trade association of elite wine estates, hosts an annual tasting in Munich every November that has special significance for the Wine Rambler. We have reported on it last year and the year before that. And we will do so again in a minute. Just a few words to introduce the photographic theme of this posting: Since that chandeliered, psychedelically carpeted lounge has become an extension of our living rooms, as it were, we also take a keen interest in the other tasters gathered there. There are always some sociological observations to make, of course, and to discuss afterwards, about age structure and gender of the sample group, and in fact I think we can report some tentative progress in those two categories, wink wink. But this time, it was something rather different that caught our attention: Shoes.
Hip shoes, boring shoes, sexy shoes, sensible shoes. Endless variety with a few common themes, which makes shoes a bit like wine. That's the kind of thought that looking at mind-altering carpeting in state of growing tipsiness will bring up in the course of an afternoon. In pursuing it, however, we could profit from Wine Rambler Torsten's keen photographic eye, as well as some underhanded camera moves he learned by prowling London as a street photographer.
As far as aged wines go, eight years may not seem seriously old, but Pinot Blanc, especially from Germany, tends to be drunk as a younger wine, light and fresh in style. Having said that, some German wineries also produce more substantial Weißburgunder (German for Pinot Blanc), matured in oak barrels, that can and should age a few years. Dr. Heger is one of those wineries, located in the Kaiserstuhl, the warmest wine growing area in Germany with fantastic volcanic soil.
The dry Auslese from the Winklerberg vineyard is one of those more substantial Pinot Blancs. The colour shows the wine's age, an intense honey coloured gold that promises substance and maturity.
During the busy January wine trade tasting season there was one event of special importance for the Wine Rambler, the annual tasting of The WineBarn. The WineBarn is a UK distributor dedicated to German wine with a great portfolio including some of Germany's best wineries and some our the long-standing favourites. So one January afternoon I trekked over to the posh Mayfair neighbourhood of St James's Hotel and Club to enjoy some German wine and German wine conversation.
I found myself in a somewhat labyrinthine room with very low ceilings and an interesting combination of natural and artificial light coming from the roof.
A few years ago, when the Wine Ramblers were not yet Wine Ramblers, we attended our first ever wine tasting together. An unhealthy mix of curiosity and the promise of a free tipple had brought us to downtown Munich's venerable Bayerischer Hof. At this hotel, members of the VDP (Verband Deutscher Prädikats- und Qualitätsweingüter), an association of some of Germany's most distinguished wineries, were presenting a range of their wines. It was a memorable evening that began with a lot of awkward swooshing and spitting, and ended with a drunken plan of creating a diversion in order to steal a case of Knipser Syrah that, sadly, never came to fruition. But that is a story for some other year.
The tasting is an annual event, we reported on it last year and we will in the future. This year, we decided to cover in more depth the six wineries that most convinced us - and to point out a few wider trends that we think may be worth noting and discussing.
If you are one of those thinking of German Pinot Noir as very light wine, pale in colour and neither substantial nor worth ageing then have a look at the wine below. And if you do not think about German red wine at all, well, then do the same. The two Wine Ramblers, at any rate, did also spend some time looking in amazement at the incredibly rich colour of the ten year old Spätburgunder that they had opened last weekend to celebrate one year of The Wine Rambler. Join us in the merriment:
Yet again it is back to Baden for the Wine Rambler (this year I seem to drink more and more wine from Germany's sun-kissed southern wine region), and yet again a wine from the Heger winery: a surprisingly fresh and fruity, but otherwise very typical Pinot Blanc, if you want the short summary.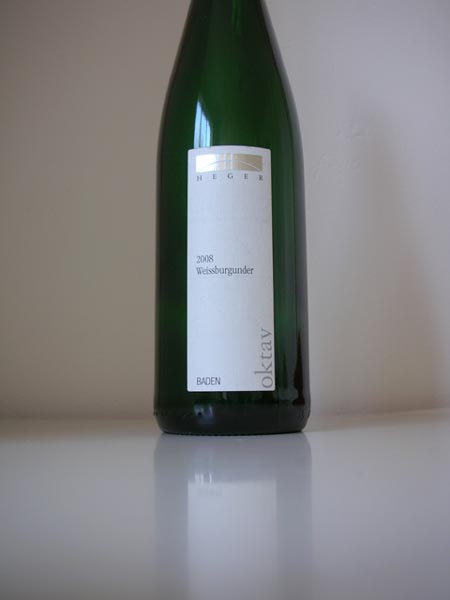 Imagine a hilly landscape somewhere in Europe. The sun is burning down. The temperature is way above 30° C. Sitting on a porch, you look around an area that was shaped by volcanic activity. While there is no lava any more, you have been told by locals that this small town is the warmest in the country. Your host returns to pour more Pinot Grigio. Southern Italy, you may think? Not at all! Chances are that you are sitting in the town of Ihringen in the South West of Germany, drinking a Pinot Grigio, Grauburgunder I wanted to say, made by the Heger winery. Well, it is still winter while I am writing this, but a few days ago I opened a bottle of a Grauburgunder, as the Pinot Grigio/Gris variety is called in Germany, for two friends here in London - Dr. Heger's Oktav. [read the full post...]
A fairly dark Pinot Noir, the 07 Vitus has a seriously dry nose: smoky, toasted oak, a little yeast and a little cherry fruit - more serious than playful, I would say. The wine is also not very fruity on the tongue, where leather and a hint of pepper are added to the mix. It does not feel heavy though, partly due to its fresh acidity. The finish is good, marinated cherries, acidity and tannins, but reasonably smooth, and a bit of woodland aroma with the tiniest hint of chocolate. [read the full post...]
Wine tastings are like battlefields, it is everyone for themselves - or so I have heard people say. Actually, at least the recent VdP tasting in Munich was more like playing a part in the submarine movie Das Boot. Periscope out, zoom in on the next lovely wine and then you give the order: 'Both planes zero. Stand by battle stations.' 'Bottle one through four are ready.', the reply is almost instantaneous. However, before you can strike your helpless target, sonar picks up that sound again: Swoosh slurp swoosh schrub slurp. A split second of panic, then you go: 'Close bow caps! Dive!' Luckily, the enemy passes above you and disappears again. 'Is it getting louder?' 'It seems constant. Ahead of us.' The awaits your next move. As the Old Man said in Das Boot: 'Now it gets psychological, friends.'
That it was, but also great fun with some amazing wines, this year's VdP wine tasting in Munich. VdP stands for 'Verband Deutscher Prädikatsweingüter', or Association of German Prädikat Wine Estates, a group of highly decorated German estates, 'the world's oldest association of top-quality wine estates'. Every year in November some VdP members hold a wine tasting in Munich. And the Wine Rambler attends, hungry for prey.
White crystals on the cork. Shiny, golden colour. A nose of (flowery) honey and stone fruit, with a faint hint of mineral; peach. In the mouth honey, smooth, caramelised peach, very smooth, a little spice, nicely aged. At first, we noticed a little malt in the finish (think malt beer), but that disappeared after 15 minutes or so; a little bitter towards the finish - not entirely unpleasant though. It made me want to have a soft, not too sweet cheese cake.
A nicely aged Riesling that was very drinkable but lacked that little something to be truly, truly memorable.