Weingut Ziereisen
A winery in the Markgräflerland, a region in the southwest of Germany, not too far from Switzerland and France. Ziereisen grow Pinot Noir, Syrah, Regent, Gutedel, Pinot Blanc, Pinot Gris, Chardonnay and Gewürztraminer - and we think they make some of the most interesting wines coming out of Germany these days.
At times, I am quietly envious of my fellow Wine Rambler, who recently won British citizenship. I sometimes think I was born into the wrong country, as I rather fancy I would make a passable Brit myself. Case in point: I get acutely embarrassed in situations that nobody else would find even mildly troubling. When strolling through the heart of Munich recently, I stepped into the Dallmayr wine department on an impulse to see if any exclusive and glamorous new discoveries were on display. Having looked around and seen what I had come in to see, it suddenly occurred to me that I could not possibly leave without buying something (that would have been embarrassing, you see, because the shop assistants would form all kinds of disadvantageous opinions about me). Dallmayr, on account of their general adventurous pricing and the kind of impulse shopper they cater for, is not the best place to have a fit like this. At least I was sane enough to not want to leave a lot of money, so, fighting a rising sense of completely self-induced panic, I was relieved to find this bottle from my very favourite German winery lying invitingly beneath a fine cover of dust.
I already knew its story: 2006 had been so poor a vintage in Baden that Hans-Peter Ziereisen, quality-obsessed ruddy-cheeked devil that he is, did not want to bottle either his usual top-of-the-range Pinot Noir nor his varietal Syrah. His solution: Mix the Syrah with Pinot Noir to make a mid-range cuvée that would be interesting, but no more than it claimed to be. Hence the completely unusual grape mix, hence the name, Zunderobsi being a lovely dialect term for "topsy turvy". This is classic Wine Rambler territory.
We had heard a shy young Franconian winemaker talking about finding his own way, a sage dispensing Riesling wisdom, and the hulking star of the river Saar warn us of his own wines. But in spite of our heads beginning to spin, our palates starting to give out, and the lure of Dallmayr's fine sausages, cheeses and chocolates pulling us away, we had not yet heard enough...
Sample size issue?
In case you missed the first part of this report about Winzerelite ("wine growing elite"), the annual spring tasting hosted by posh Munich wine and fine food store Dallmayr, in which we were talking.... No we weren't, really. We resolved to, this once, fulfil our journalistic calling and let winegrowers do the talking. One wine each, and whatever they wanted to tell us about it and what choices they made in making it - those were the rules.
Nowadays everyone seems to expect the Spanish Inquisition. Well, maybe not exactly Monty Python's torture team with the comfy chair, but with the internet full of surprising wine finds presenting something unusual has become harder. Even so I hope that writing about German Syrah will be unusual enough to attract some attention - at least enough to keep you stuck to your chairs, trembling with anticipation, until my co-Rambler returns from his holiday to give you part two of Speak, barrel sample.
So here it is, the 2008 Syrah from a Baden producer who is at least as unusual and charming as his wines.
Christmas lies behind us, the new year hasn't quite started yet - it is the supposedly quiet time "zwischen den Jahren", or between the years as the Germans say. It is the time when memories and hangovers of heavy Christmas food and wine are still close enough to feel physical, and yet New Year's eve calls with classy Champagne and another set of booze-heavy parties.
In short, it is a good time to leave the heavy, deep, expensive, mindblowing wines behind and think about lighter alternatives that don't lack the enjoyment factor. Enter Hanspeter Ziereisen's Heugumber.
Another wine from the Gutedel (=Chasselas) grape? Indeed. The more serious and objective international wine critics may point out that two wines from this rather pedestrian grape are already too much, when there is so much Riesling to talk about. But we talk about whatever we like here on the Wine Rambler, and I happen to have a soft spot for wines from the Markgräflerland, that pleasant stretch of wine country near Germany's southwestern border with Switzerland. I have another soft spot, incidentally, for the Ziereisen winery, that elite/anti-elite rogue/boutique family outfit that arguably makes Baden's most stylish wines, but that's another story.
And I've come to enjoy Gutedel quite a bit, why the hell not. So what are we looking at here?
Yes, it's true, I should be working on my foolhardy Burgundy project instead of letting myself get sidetracked by stuff that isn't even wine. And I wasn't going to. But I do like Cider. Germany doesn't have a proper Cider tradition like France, northern Spain or Britain. There is a great love for Apfelwein, the fairly sour regional variant, in parts of Hesse, but that has never gained much commercial traction anywhere further than 100 miles from Frankfurt.
So when I found out that Ziereisen, one of my very favourite wineries, had come out with their own cider, and some time after, that a well-known internet wine merchant had begun sourcing a different one from another reputable producer, who was I not to get in line?
Ziereisen time here at the Wine Rambler, and with that, a kind of follow-up on the theme of food friendly wines raised by the Wine Rambler's very recent report on Long Island wine growing. While Hanspeter Ziereisen's reputation was largely made by the massive and impressive 03 and 04 vintages, it is not as well known that he has since changed his style completely. Bored by what he came to see as the overconcentration and vacuousness of the "big red"- style he was then aiming for, he decided he would henceforth make the Pinot that he himself likes: Lithe, drinkable, and yes: food friendly. Avantgarde burgundian. In fact, judging by the wine under review, it's not much of an exaggeration to call Ziereisen a one-man french revolution in german Pinot.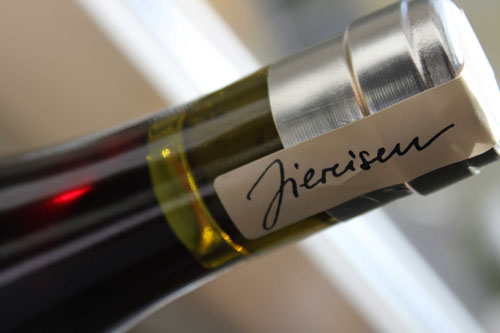 Since the well-remembered Silvaner symposium, Wine Rambler full committee meetings have regularly featured a pair of wines with a characteristic similarity (grape variety and vintage, mostly) that we taste without knowing which is which. Is this a sensible thing to do? The detractors of tasting blind argue two things: It favours bolder, more easily understandable wines at the expense of quieter, more refined types, thereby contributing to a levelling of taste and the loss of originality and regionality in wine. It also, in their view, turns tasting wine, which should be about enjoyment and open minds, into a sort of competitive sport. Valid concerns, surely, but we keep finding that without putting your own palate to the test once in a while, you lay yourself open to the twin dangers of preconceived notions and of auto-suggestion ("Label says this has notes of ripe blackberries. Yeah, I think I'm picking them up..."). So we're stumbling on with the blind tastings.
Inspired by Simon Jones' Markgräflerland report, I have opened a bottle of this. If you have read it (and if not - why not?), then I don't need to tell you what the Markgräflerland is, nor what Gutedel means, nor who Ziereisen is. With all that competently taken care of, let's dive right in:
If you ever come across ruddy-cheeked, twinkly-eyed, chatty Hanspeter Ziereisen, do me a big favour: Don't underestimate him. And do yourself another: Try his wines. There has hardly been another Pinot Noir winemaker in Germany who has a more consistent, sharp-edged stylistic vision for the grape, or taken a more principled, self-critical and determined path to realising it. Excepting maybe Bernhard Huber in Malterdingen, we know of no greater francophile in german Pinot than Hanspeter Ziereisen. High time he made his debut on the Wine Rambler.
He grows it...
So the parcel from Ziereisen, one of my very favourite wine estates, has finally arrived, open one right now, methinks, so let's see, oh yeah, here's just the thing:
Steingrüble 2008, a serious dry single-vineyard version of a regional white grape known as Gutedel in Germany, and Chasselas in Switzerland. Been dying to try it.
Nice dark straw colour, appetizing ripe fruit in the nose, hay, mineral freshness and - uh oh - what's this, oh no, it's...
- cut, change of scene -
...imagine that wine has only been invented in 2009. Someone has come up with a way to ferment grape juice into a tasty alcoholic beverage, a corporate board has been set up for branding and packaging this exciting new product, and we are now live with its last decisive meeting: [read the full post...]