Prager, Riesling Steinriegl, Smaragd, 2006
Both my co-Rambler and I recently came to the conclusion that we had somewhat neglected Austria - a country that makes some truly outstanding wines. So Julian went off to have an afternoon of Austrian wine, during which he was particularly impressed with a Riesling made by the Prager winery. At about the same time I found myself talking Prager with Damian from Fields Morris & Verdin on Twitter. As I had never tried a Prager Riesling, Damian kindly provided me with a tasting sample, the 2006 Steinriegl Smaragd - a Riesling that is more than just a reminder of how good Austrian wine can be.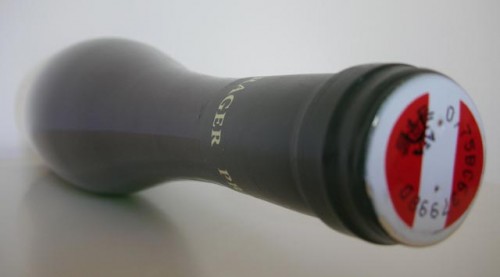 Prager is a well respected winery in the Wachau. Located about 80 km west of Vienna, the Wachau valley is dominated by the Danube; and by its white wines. Most of the wine grown here is Austria's trademark Grüner Veltliner, with Riesling coming second. Prager focus on both varietals; creating wines to reflect the terroir is a key part of their winemaking philosophy.
While 'Steinriegl' is the name of the vineyard, 'Smaragd' (=emerald) is actually a quality designation that is used for the best dry wines from the Wachau, with a minimum alcohol level of 12.5%. 'Smaragd' comes from the Smaragdeidechsen, or green lizards, who can often be seen in local vineyards.
After all this foreplay, let's have a look at the Steinriegl Riesling, to find out what kind of beast it is.
The colour still has a hint of green, but it mostly is a very clean, camomile-tea gold, and very shiny too. What really makes this wine shine though is the nose: mineral; sweet, meaty peach - so very attractive; citrus and lime; sometimes a vague hint of tobacco and smoke; and exotic fruit. A bouquet that just screams elegance, clearly defined fruit and power.
The same words could be used for the sensation left by the Riesling on my tongue. A well structured full body brimming with energy and the right dosage of strong acidity to keep it lively and fresh. The fruit (peach again, apple and exotic fruit) is so well defined it is just a joy. The Riesling also features mineral, spice and a long finish with that little bit of bitter to set things in perspective.
The Prager Riesling is an intense and powerful wine that is so well structured and elegant that it never appears heavy. If I had one criticism it would be the high alcohol content; for my taste 14% is a little too much. However, even though you will feel the alcohol, the wine never feels alcoholic - it just is a powerful beast. Clearly, this is one of the best dry Rieslings I have had in a while. It outclasses all dry Australian Rieslings I have tried so far (not too many) and certainly would be a match for many German Grand Cru Rieslings (and of those I have had a few more).
Go, Austria!
---