Drinking the leftovers: aged Chimay beer, 1995 vintage ale and the strongest lager in the world
Ladies and Gentlemen, we'd like to welcome you to another instalment of the series unusual and aged beers with the Wine Rambler. This time we present a trio of cute little birds, ah, beers, an ale of fifteen years age, even older Trappist beers and the strongest lager in the world. Imagine the last bit read by Jeremy Clarkson: 'the strongest lager beer [pause] in the world.' So come in, kind reader, and follow us on our ongoing journey of beer-exploration.
So, for those of you who are new to this game the basics. My friend Mike is a connoisseur of good beer. In fact, like a good wine lover he buys beer to lay it down for a few years, in some cases even decades. And lucky for the Wine Rambler now is the time to drink some of them. In fact, we have done this a few times now, and last week was time to drink up some of the leftovers. Pretty exciting leftovers, I'd say though.
We started our drinking in Belgium, with beer brewed by the Trappist monks of Chimay. I have written about their range of beers before, so I just refer you to that posting. For now let's just say that the Monks do have some expertise in making age-worthy beer. The Chimay that opened the evening was bottled in 1993.
With 7% alcohol the Chimay Rouge is the lightest of the three commercially available Chimay beers. This could give some reason for concern whether it had survived 17 years - but it had. The nose was not as intense as one would hope though, but rather a little on the quiet side, with musty notes, a hint of sweetness, somewhere between caramel and raisins. Aged Chimays that we tried before still showed some fresh acidity on the nose, but this one was a little calmer. The same was true with regards to the taste - still pleasant, but not as fresh any more. It had great raisiny taste, mostly of brandy soaked raisins, was very creamy and brought out a little spice in the finish. A pleasant aperitif, after which we moved on to food.
As some of the previous Chimays had good, apple-y acidity, I somehow got it into my mind to cook something with apple. And as I am currently in a risotto phase I made a spicy apple risotto with toasted walnuts and fried sage. You cannot see this on the photo, so you will have to trust me on this.
Speaking of the photographs: these were taken with three different cameras, and one really struggled with the light. As I did not want to present my co-adventurers in all grainy pictures I decided to make a virtue out of necessity and try a few effects on those photos to incorporate the graininess. So please blame me, not the guests - who all photograph very well.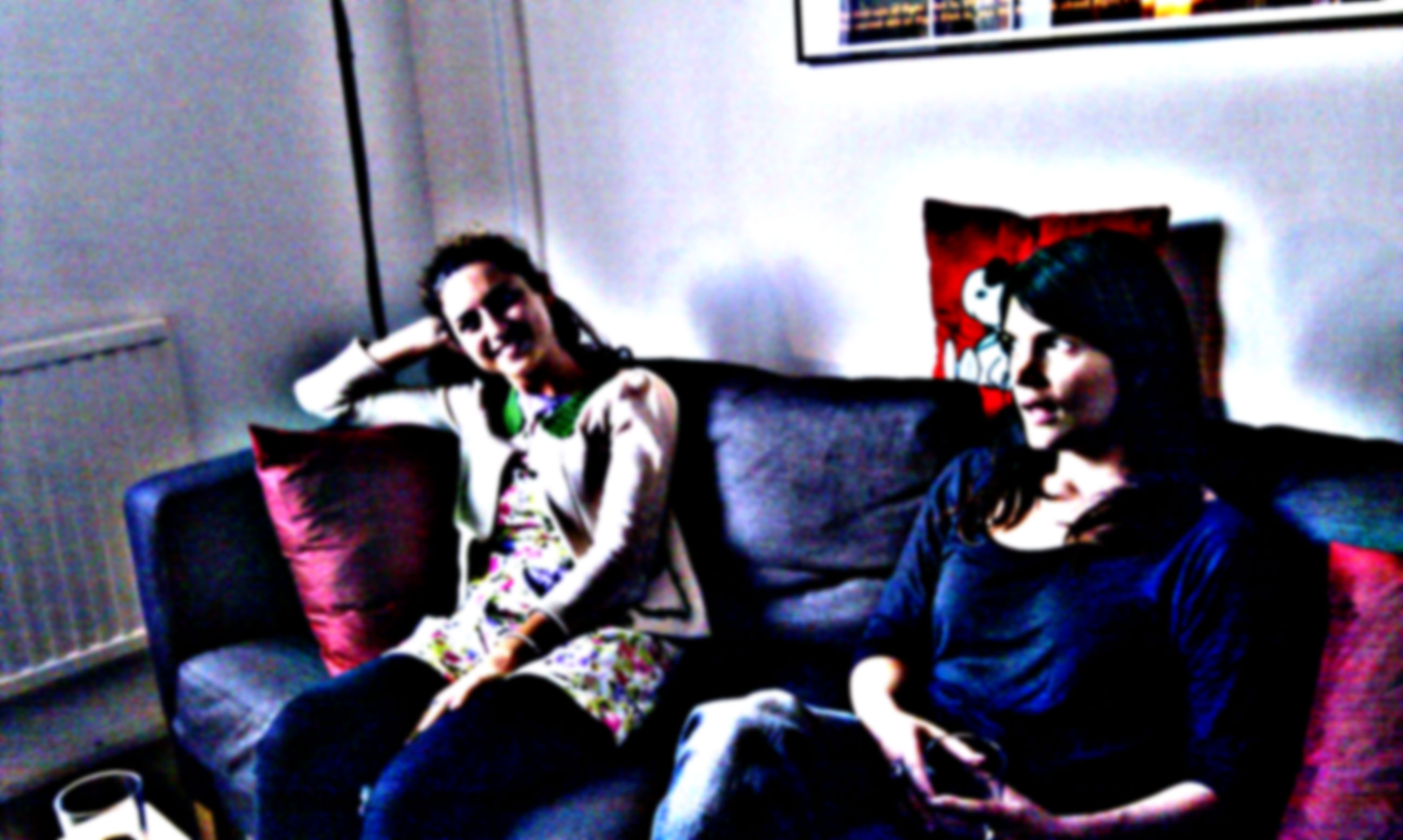 Back to the beer now. With the food we had the strongest Chimay, the Bleue, that is also known as Grande Réserve. It is the fruitiest Chimay and comes with 9% alcohol - at the time of bottling. Ours was from 2001 and it was still very much alive, a great fruity nose that was fresh, substantial and lively and featured nice liquorice and caramel. Substantial and deep on the tongue, it shows a good balance between freshness, depth and strength and is just very drinkable. We took this as another sign that about 8-10 years seems to be the ideal drinking age for these beers.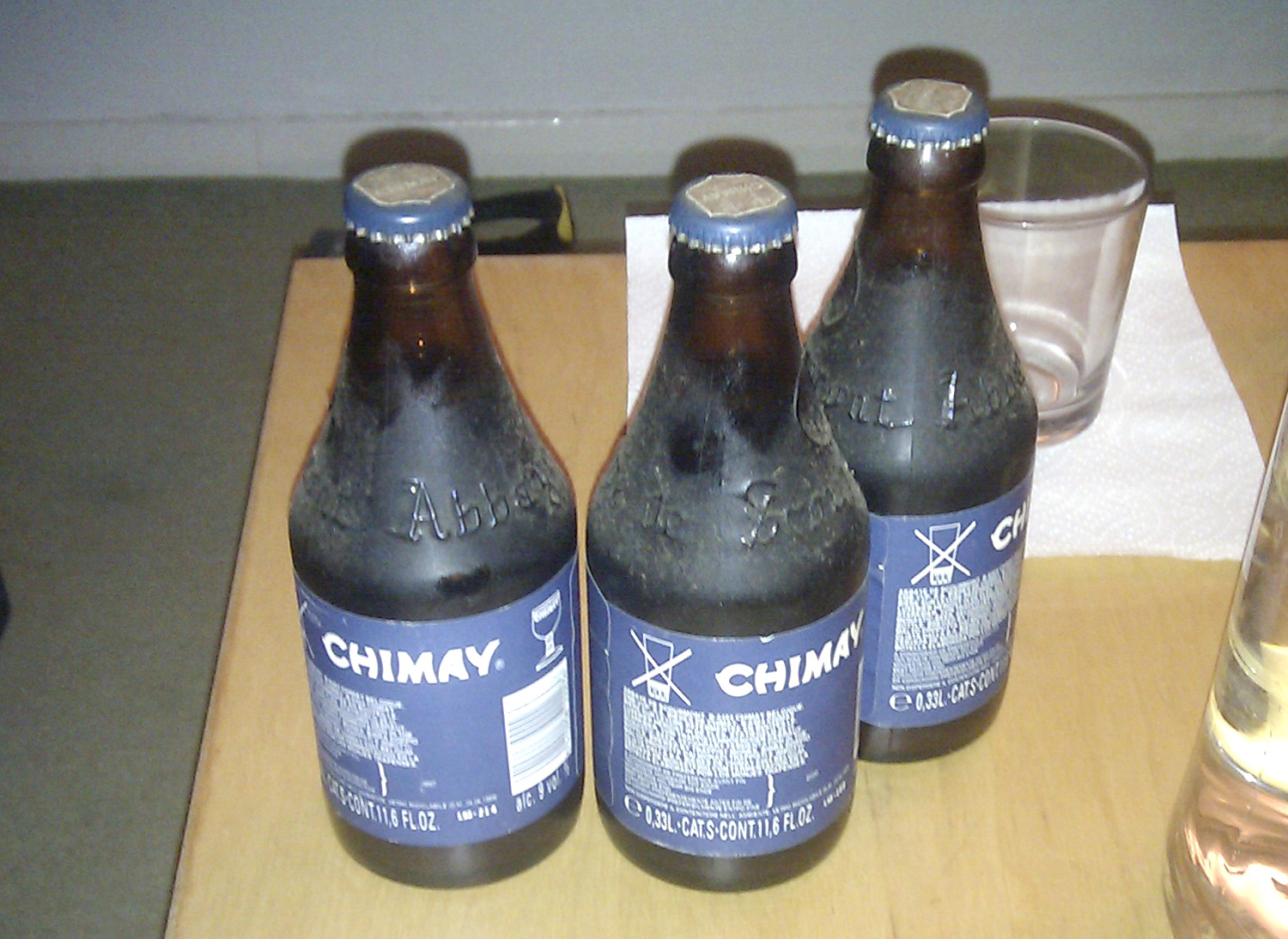 The 2001 Bleue was followed by three little birdies of the same type, just in smaller bottles and a little bit older - the 1993 vintage of the Grande Réserve. This was a rather different animal - after eight years more ageing - and in a smaller bottle.
The nose was very intense and really brought out the cherries that the 2001 only hinted at. In addition, it had lots of dark chocolate and also cocoa. The chocolate galore experience continued on the tongue, where lots of bitter chocolate and less acidity made the beer less lively than the 2001, but also more substantial and drier. The finish again featured great bitter chocolate.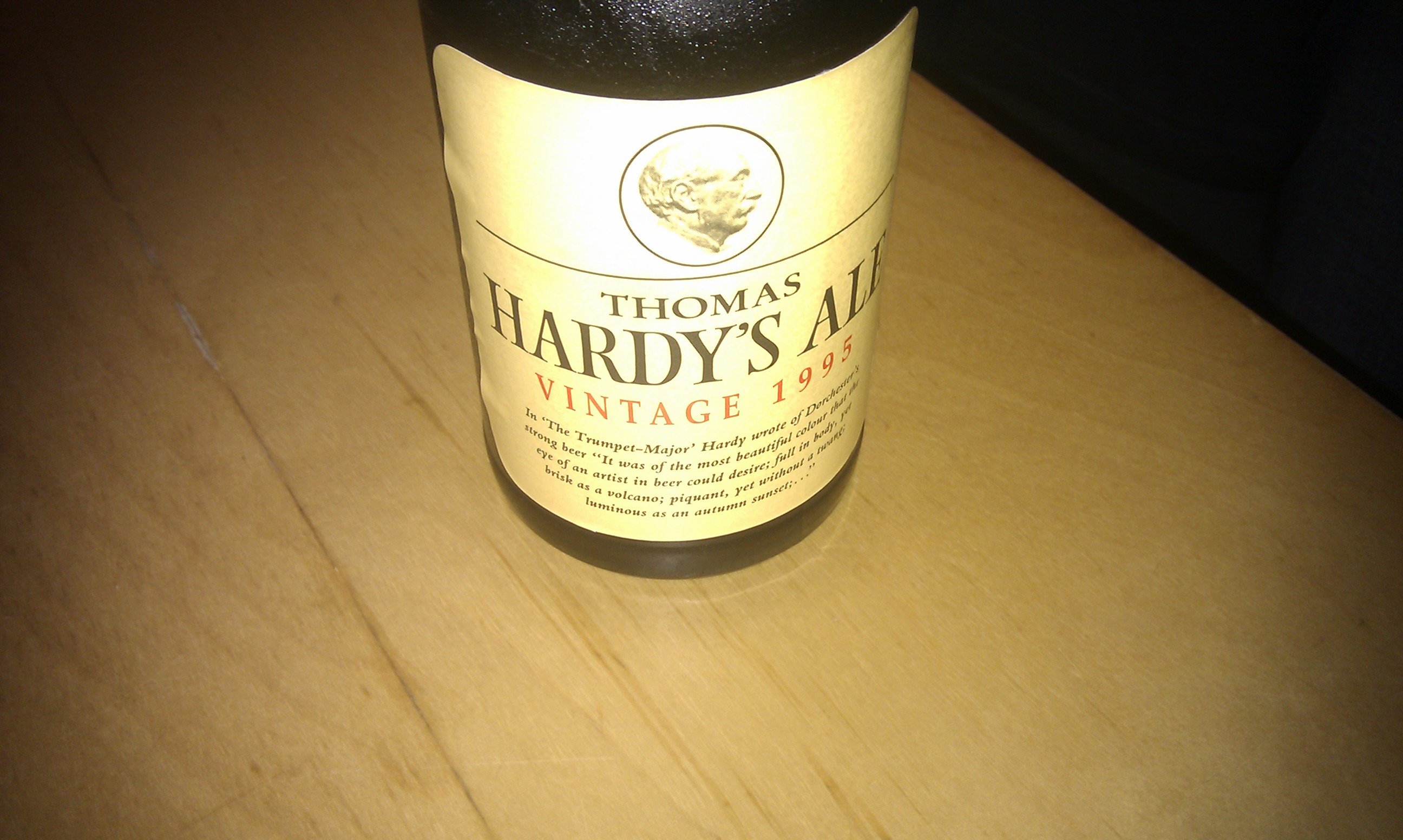 Next we moved to the UK, to Dorchester in fact, where Hardy's ale has been brewed by the Eldridge Pope brewery. The brewery goes back to the late 19th century, but closed down for good in 2003. Before that, they made Hardy's as an oak cask matured ale that was meant to age. In fact, the label states that they expect it to age well for around 25 years. In that sense, our sample bottle was still young.
The nose was very raisiny, and it also had its chocolaty moments, plus yeasty notes, bordering on malty. Texture-wise it was almost syrupy, with a certain booziness (particularly in the finish) that reminded of brandy marinated cherries. A little flat compared to the livelier Chimays, it had a creamy intensity that should appeal to lovers of brandy and similar drinks.
Next came an even stronger beer. The Samichlaus Bier is brewed by the Schloss Eggenberg brewery, Upper Austria. The history of brewing in Eggenberg Castle goes back to the 14th century, with beer being brewed commercially since 1681. Samichlaus is a speciality beer that they only brew on the 6th December every year - St Nicholas' day. It is aged for ten months before bottling and lays claim to being the strongest lager beer in the world with 14% ABV. (Remember, this text is read by Jeremy Clarkson: 'the strongest lager beer [pause] in the world')
Our Samichlaus Bier was bottled in 2003. It had the lightest colour of all the beers we drank last Thursday, despite being of a fairly rich brown. The nose reminded us, again, of brandy, with a bit of toasted nut. Not too dissimilar to the Hardy's, texture and overall mouth-feel were a little like a brandy or a sherry perhaps. It had both bitterness and sweetness, but also a sharpness enhanced by the alcohol. A certain maltiness reminded me of Karamalz, a malt based drink that is, or was, very popular in Germany. Despite the fond memories it gave me, this was probably the least liked beer of the night - it lacked the balance of the Hardy's and the fruitiness of the younger and the chocolaty deepness of the older Chimay.
As sweetness was mentioned I should also say that we had a range of lovely, cute little desserts to take care of that Valentina had organised from Covent Garden Food Market. Mine was panna cotta with raspberry purée. We had those with the Hardy's.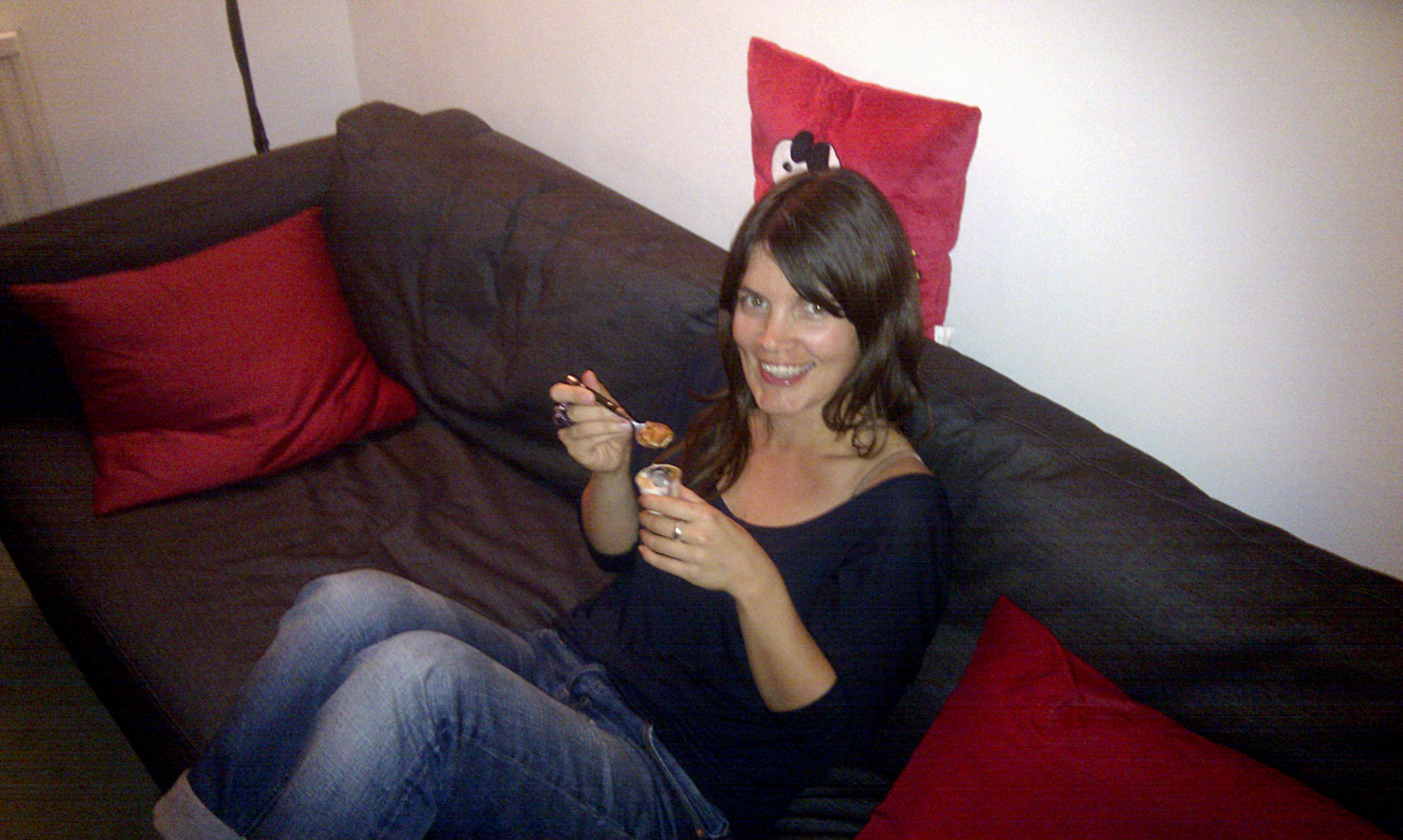 After all that beer and dessert we finished the evening off with a late harvest Riesling, a 2003 Piesporter Goldtröpfchen.
As always, I have to thank Mike for his generosity in sharing all these beers with us. It was a fantastic evening and I hope it will not have been the last.