English countryside in the glass: English Wine Producers Tasting 2011
A few years ago I came across an international wine guidebook that had a, tiny, section on England. I don't remember the exact wording of the first sentence, but it basically said that English winemaking was no longer exclusively dominated by rather mediocre efforts of retired army and navy officers. Not the most flattering of compliments perhaps, but still a sign of the wine world starting to notice that something is happening in England. To learn more about what exactly is going on in the green and pleasant land, I attended the English Wine Producers press tasting.
Held in early May in a very traditional venue - One Great George Street, right next to the Houses of Parliament in London - the EWP tasting was a chance to try over a hundred English wines, not only dozens of sparklers, but also rosés, whites (from dry to aromatic, oaked and sweet) and reds. Yes, English reds.
There is English red wine, but not very much of it. In fact, there is not very much English wine. Even after a massive recent expansion, last year only about four million bottles were produced. The market share of English wine in the UK is around 1%, I have been told. And outside the UK, well, if you allow me to confuse personal experience with statistics for a moment: among my wine curious friends abroad the only ones who to my knowledge have tried English wine have tasted it with me. None of them have braved an English red wine, so one of my tasks for the EWP tasting was to keep an eye out for an enjoyable red.
Strawberries and cream - the Sparklers
Before we come to the curious subject of English red wine, the sparklers need attention. The central tasting table opened with fizz: 22 bottles of white and seven bottles of rosé, with prices ranging from £11-£40. Not exactly cheap for a bottle of wine, you may say, especially as only three wines cost less than £20, but then the English producers aim to take on Champagne - in quality, and increasingly in price; and good sparkling wine rarely comes cheap.
Among the people I talked to, opinion on the English sparklers was divided - in terms of style and personal preference, not so much quality. One attendee complained that most English fizz tasted like Champagne, whereas she had hoped for something stylistically different. Many others would see this as a compliment though, and to me the tasting confirmed yet again the high standard of sparkling wine made by good English producers. Ridgeview was one of the producers I found consistently enjoyable, for instance the 100% Chardonnay Grosvenor Blanc de Blanc 2007 (well balanced and flavoursome with creamy texture and aromas of tropical fruit and apple cake), the 2008 Blanc de Noirs Knightsbridge (63% Pinot Noir, 37% Pinot Meunier), or the 2008 Fitzrovia Rosé (69% Chardonnay, 19% Pinot Noir, 12% Pinot Meunier) that had great red berry fruit and character - one of my favourites.
Another of the internationally successful names in English sparkling wine is Camel Valley. Their Cornwall Brut 2009, one of only two sparklers made from Seyval Blanc (plus Chardonnay and Reichensteiner, in this case), was fresh and vibrant, while the White Pinot 2006 had great fruit, focus and a long finish. Camel Valley Pinot Noir Rosé Brut 2009 was also convincing, well balanced, lovely strawberry aromas and lively acidity. Seductive strawberry is also to be found in Chapel Down's English Rose NV. While he cheapest of the rosé sparklers was perhaps a revelation it was still decent value. None of the Chapel Down wines cost more than £25, actually, and I particularly liked the 2006 Pinot Chardonnay that had substance and nice pear flavours.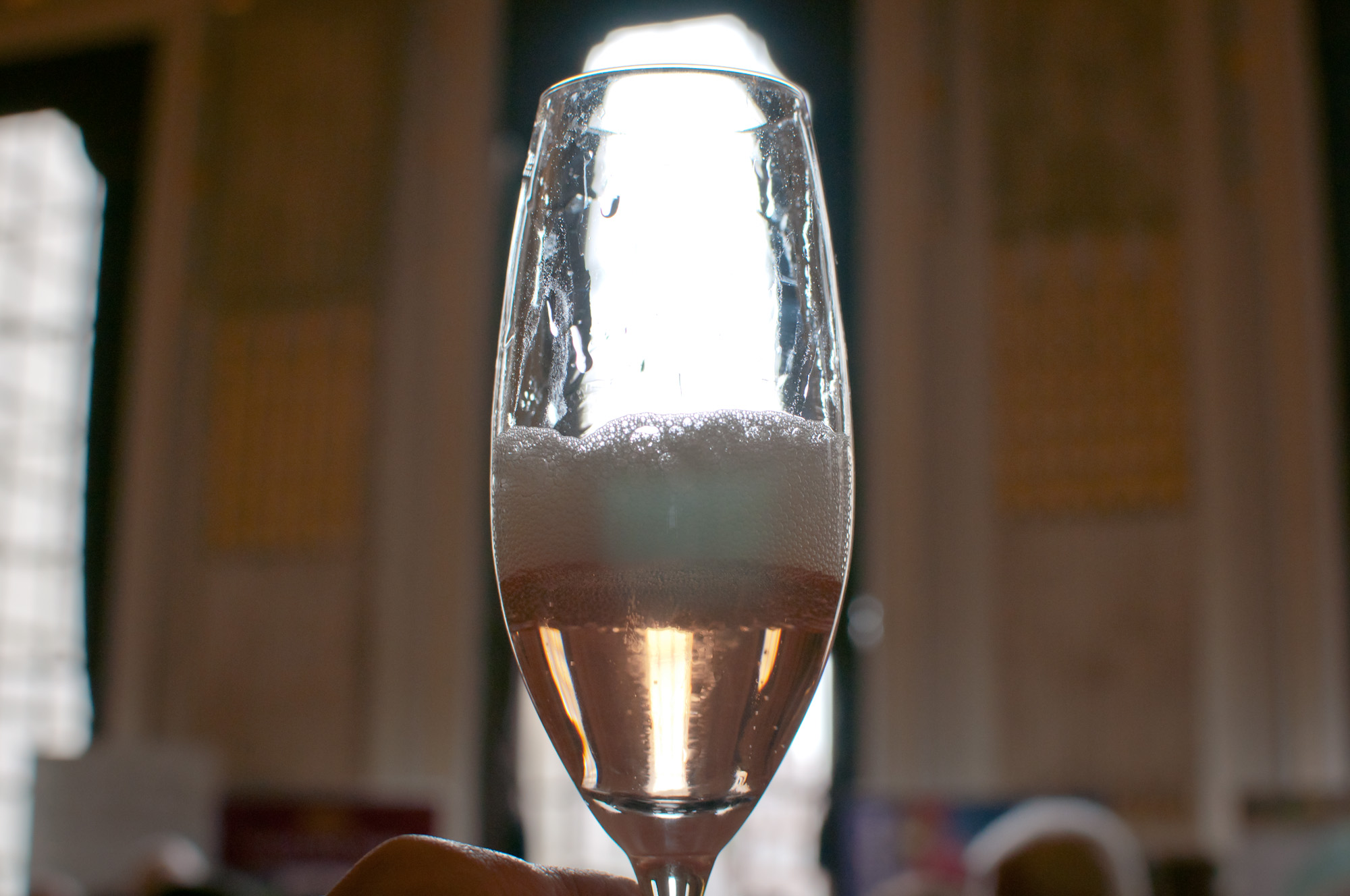 The most expensive wines in the tasting came from Nyetimber, one of the stars of English sparkling wine. The 2003 Blanc de Blancs had elegance and depth, a plum cake finish and, despite starting out a little reserved, very soon revealed an enticing ripe fruit character - "like a dagger hidden behind a cloak" is the phrase I used in my notes. The Nyetimber Rosé 2007 had much substance, raspberry and brioche notes, a certain creaminess and good acidity, but is also ambitiously priced at £40. Only a little cheaper is the Hush Heath Balfour Brut 2006, a classy and refreshing rosé, with great redcurrant and strawberry fruit and lively acidity.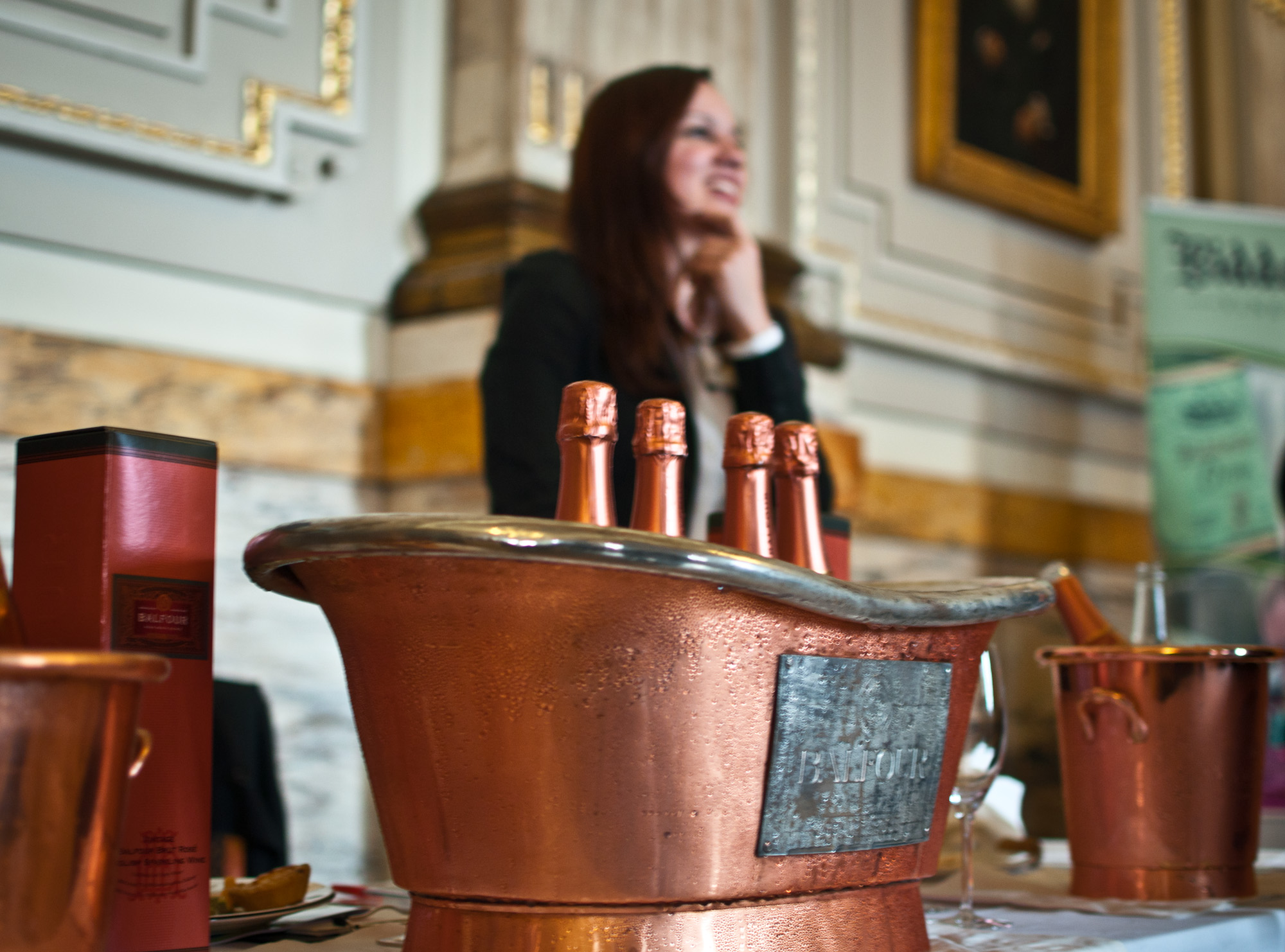 Smelling and tasting some of the sparklers made me think of flavoursome aromas from the countryside and, despite much that stylistically was Champagne, of English strawberries and cream. If you don't know how/why this is very English, have Fry and Laurie explain it to you:
Getting back to wine, I found that of the English sparklers I tried those priced below and around £30 provided the best value, and this category also included my favourites.
Aromas of English hedgerows - the Whites
English sparkling wine may draw inspiration from France, but the still wines originate in Germany. Many of the grape varieties grown in England come from Germany, and the new varieties developed in the first half of the 20th century are especially popular. Siegerrebe, Ortega, Huxelrebe, Reichensteiner, Kerner and Bacchus all fall into this category. Interestingly, these varietals are not very popular in Germany - they are either grown only in tiny quantities or are on a massive downward spiral. Bacchus is such a case, partly as it is seen as not delivering the same quality as other, nobler grapes. Among the non-Germanic varieties grown in England are Madeleine Angevine and Seyval Blanc, and also Pinot Blanc and Chardonnay. At the EWP tasting, the still whites were divided into four categories: dry, aromatic dry, oaked dry and off dry/medium dry.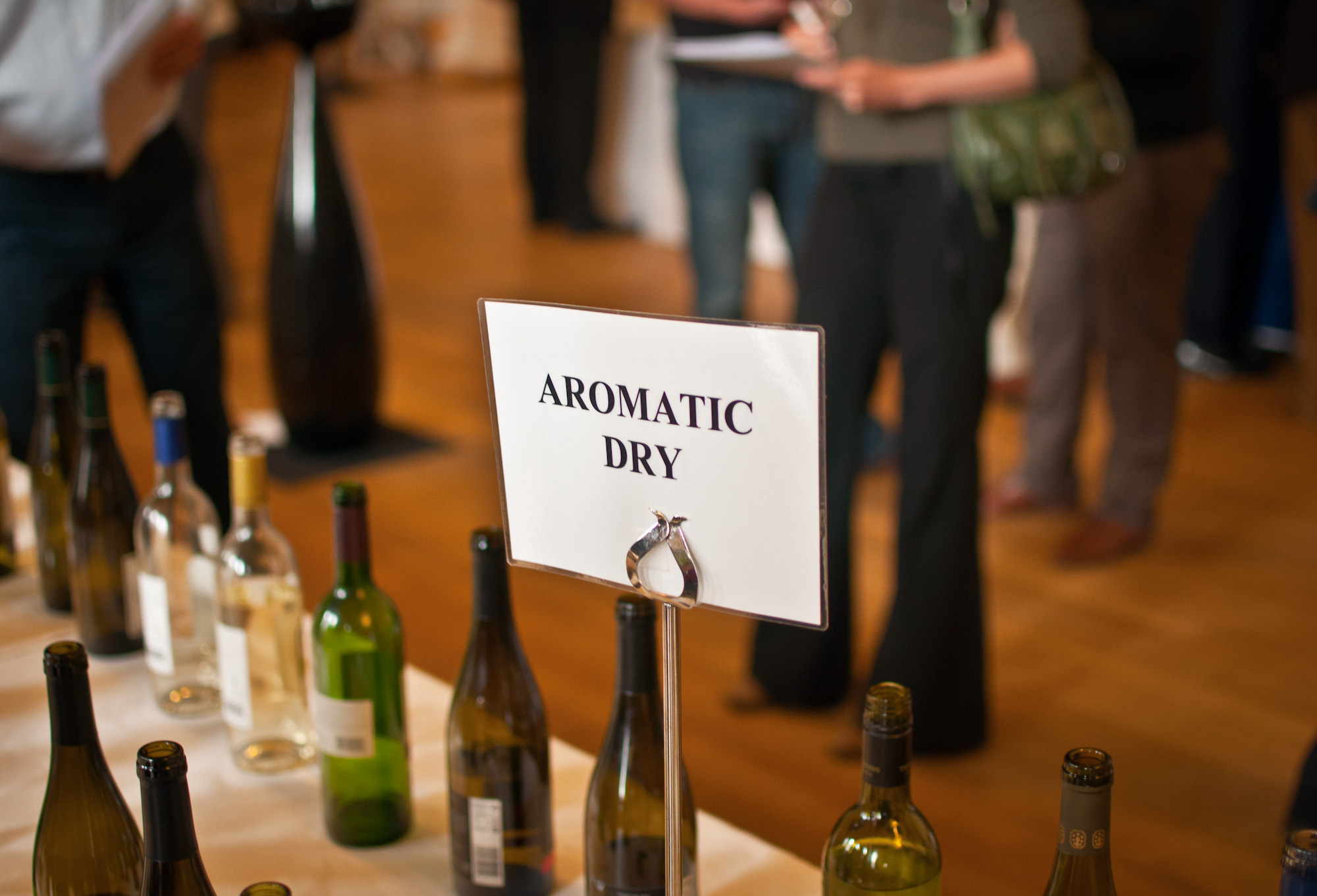 About half of the standard dry whites were blends between up to four varieties, the rest were varietals - all made from the above-mentioned varieties, excluding Bacchus. With a few exceptions the "aromatic white" category was dominated by varietal Bacchus, and half of the medium dry whites were made from Ortega. Prices for the whites range from £6.25-14.95. The producer with the cheapest whites was Three Choirs, although their Bacchus and Siegerrebe varietals were amongst the most expensive whites. In the cheaper range the Estate Reserve Coleridge Hill 2009 (40% Phoenix, 30% Madeleine Angevine, 15% Orion, 15% Müller-Thurgau) was not bad - floral, honey and pear mixed into a clear, fresh wine that was pleasing on the tongue (£6.95). For almost twice the price the Cellar Door Siegerrebe 2009 was very aromatic, with fruit gum and peach notes, good to drink but not as deep as the price difference would suggest.
Paola SipSwooshSpit sampling for her report on EWP
My first single varietal Madeleine Angevine was quite pleasant, the 2009 from Leeds based (!) producers Leventhorpe - a lighter wine that is aromatic, floral, herbal and delicately fruity, including pear and grapefruit, and drinks quite well. Among my favourite white wines was Chapel Down's Pinot Blanc 2009, a good reflection of the grape, with a very pleasant, chalky and smoky minerality (£13). I also liked Chapel Down's 2009 Chardonnay because of its delicate minerality, creaminess and good fruit; reminiscences of Chablis here and at £14 the second most expensive white. In terms of character the "standard" whites were on the lighter side, often floral or with herbal aromas (that reminded me of camomile tea and grapefruit), pear and citrus notes, easy to drink, but not always revelations of depth and character. With a few exceptions (such as the enjoyable Ranmore Hill 2009 from Denbies (Ortega, Bacchus, Pinot Noir)) the "aromatic dry white" section was dominated by Bacchus. Some argue that Bacchus should be seen as the country's signature grape, England's answer to Sauvignon Blanc. Historically, I have had my difficulties with Bacchus - personally I do not find the SB comparison a big selling point as I am not a real fan of the intense, in your face fruit driven style of Sauvginon, and some Bacchus I had previously had relatively intense, bitter, unbalanced fruit aromas that I do not find attractive. From a marketing point of view though I understand that having an "English Sauvignon Blanc" has the potential to sell well in the UK and there can indeed be some similarities between wines made from those grapes. I quite liked the expression of Bacchus "smelling like an English hedgerow" though.
The single varietal Bacchus I tried at the EWP tasting was of relatively consistent quality that, mostly, seemed to relate to the price. My favourites, the wines from Three Choirs, Camel Valley and Chapel Down, are priced between £11 and £15 a bottle, and none of them had any of the slightly unpleasant bitter aromas I have come across in other Bacchus. Among the slightly cheaper Bacchus, the 2009 Denbies was probably my favourite (£9.99). The Chapel Down Tenterden Bacchus 2009 Reserve stood out for substance, balance, juiciness and good finish; its minerality was also good, but to me the most enjoyable minerality came from the 2010 Camel Valley Bacchus. A surprise was the find an oaked English white wine. The Kings Fumé 2009 is made by the Stanlake Park Wine Estate winery from 100% Ortega and aged in new barrique barrels. Unsurprisingly, the wine was very creamy, but surprisingly it was not as dominated by oak as you might expect from a young wine.
A good balance between light/fresh and substantial/flavoursome (with perhaps not the strongest finish), the Kings Fume is one of the few English whites I have tried that should improve with age - a representative of the winery told me that the oldest of these wines from the Stanlake Park cellars are fifteen years of age and still drink well. He also explained that the barrique ageing adds about £1.50 to the cost of a bottle (£9.99). The medium and off-dry whites did not leave much of an impression with me, perhaps with the exception of Astley's Veritas 2009, made from Kerner and unchaptalised, as was emphasised. Astley also showed a wine that was classified as "late harvest/dessert", a 2009 late harvest made from Siegerrebe grapes that is cleverly called "Late Harvest". Astley only make this wine in good vintages, and the 2009 sells for £10 in a half bottle with 10% ABV. The nose is fresh, featuring pear, peach, menthol, hay/herbs and a bit of vegetable; on the tongue aromas of tropical fruit and honey. Enjoyable, but I'd have wanted either more intense dessert wine quality or more elegance, as you would get from a Mosel late harvest Riesling, for instance.
Overall the whites were a mixed bag, sometimes lacking balance or substance, but also quite a few pleasant surprises and interesting finds that should warrant further investigation.
So what about English red wine then?
There were five reds to taste on the central table, from Biddenden (a Dornfelder), Bolney (a 2010 Pinot Noir and a 2008 blend of Rondo, Dornfelder and Triomphe) and Chapel Down (a Pinot and a blend of Pinot, Rondo and Pinot Précoce called "Trinity"), with prices ranging from £8.70 to £14.95 for the Bolney Pinot.
I guess I am part of the so called anti-flavour elite, i.e. I prefer leaner red wine with freshness, so in theory I should have liked the English reds on display as they had lots of fresh acidity. Unfortunately a little too much even for my taste, or perhaps not always enough fruit and concentration to balance it. This made for lots of fresh tingliness in the finish in wines that mostly were not too intense on the nose and palate otherwise. On the positive side I found lots of smoky flavours, fresh fruit (cherry and strawberry) and some minerality. The blends were, no surprise, a little more substantial with more pronounced tannin and impressive dark colour, almost inky. All wines were perfectly drinkable and much better than, I assume, most continental Europeans would expect from English red wine, but I also couldn't get really excited. Perhaps serving them slightly chilled would suit them better?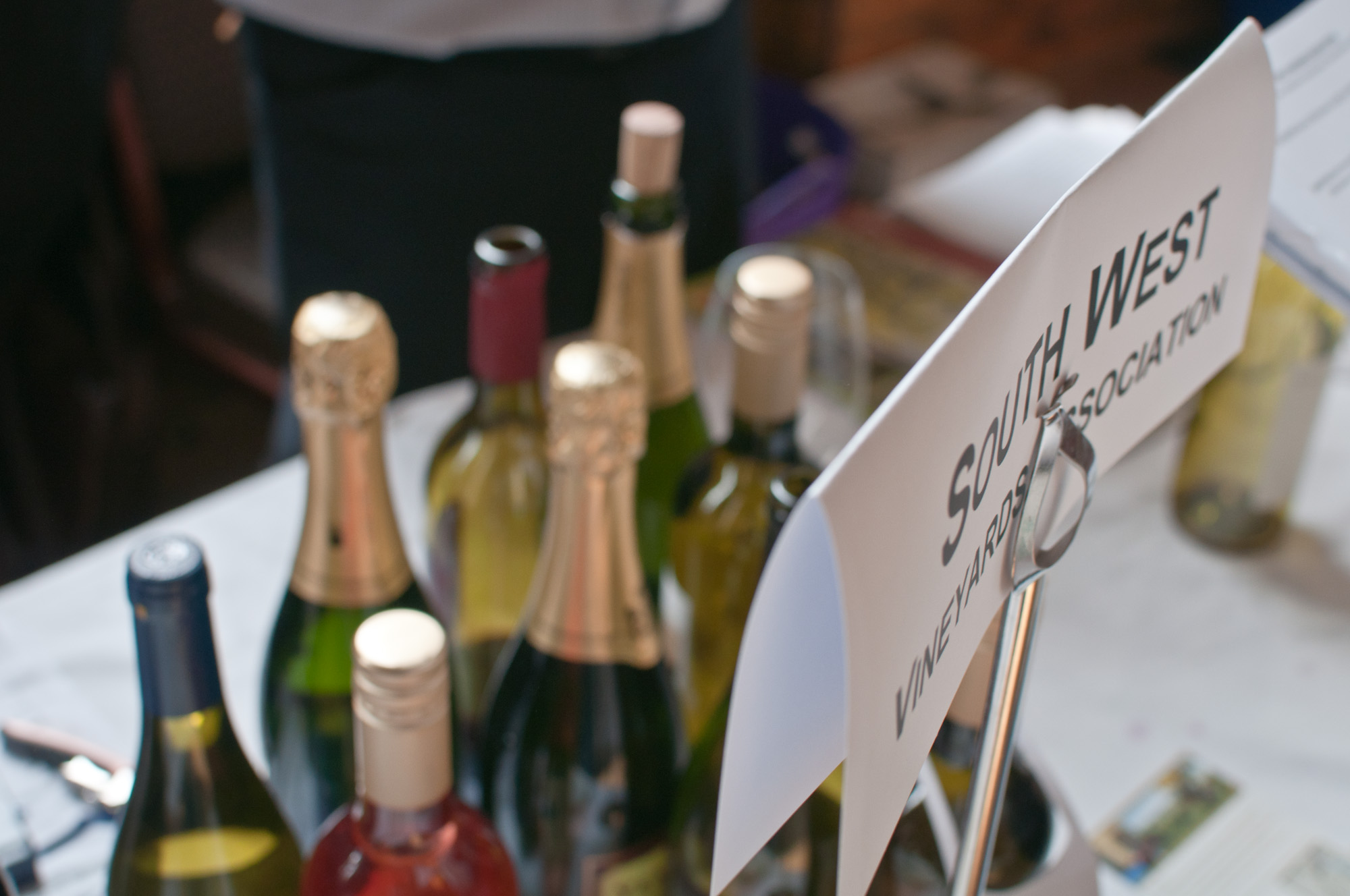 There is one red wine I would like to feature though, and it was to be found on the table of the South West Vineyards Association: the Sharpham Pinot Noir 2009. From Totness in South Devon comes a smoky Pinot Noir with nice fruit and, despite much freshness, relatively good balance. It reminded me of a lighter Baden Pinot Noir and was very drinkable. There is one flaw though, and that is the price. For £17.50 I expect more from my Pinot (and you can easily get it from Germany or elsewhere), although I'd still recommend getting a bottle of the Sharpham if you a curious about English reds. The Sharpham, by the way, was recommended to me by Julia - Julia is just about to open a tasting room for English wine, the Wine Pantry in Borough Market in central London. If you want to sample across the world of English wine without having to buy by the bottle this should be a great place.
I did not systematically venture into the rosé this time, but found the Chapel Down English Rose (2010) as enjoyable as previous vintages, with lots of summer fruit.
Price, local produce and a winemaker's story
Before I went to the EWP tasting, I tweeted something along the lines that I was confident to find quality, but curious to see whether I would also find value. In the past I often found English still wines to be just a little too expensive for what they were. This was more an issue when sterling was very strong against the Euro, but even with that gap closed I wasn't always convinced. So one of my objectives at EWP was to get a better idea of the value I would find when sampling a broader range of English wines than I had tasted before. Overall I found the English sparkling wines to be reasonably priced. About the red wines I am not so sure though, see for instance the Sharpham Pinot. Admittedly, Pinot Noir is more difficult to grow than other varieties, but both in the lower and higher price range other regions offer better value. With, for instance, decent Pinot from Chile for around seven or good Pinot from Germany for around thirteen quid on the UK market I am not sure where English red fits.
As far as the whites are concerned I found more competitively priced wines than expected. It is important to consider the prices of these wines in relation to the high tax and duty regime in the UK, something I have to add in particular for readers from Germany where you can find great Riesling or Pinot Noir for less than ten Euro. Even on the UK market English still wine may find it difficult to compete on price only, although some of the wines I tasted probably could. Interestingly, an English winemaker responded to my "value" tweet the night before EWP - Paul Langham, who with his wife runs a'Beckett's Vineyard near Stonehenge. When I met Paul at EWP and tasted their wines, he explained that it was "a stupid comment" over a glass of wine - "We must be able to do this" - that got the Langhams into this business. After making true on the comment and planting their first vines in 2001, they now grow a range of grapes from Chardonnay, Pinot Auxerois, Reichensteiner and Seyval Blanc to Pinot Noir and Dunkelfelder.
Sadly, there was no Dunkelfelder to try (they make only tiny quantities), but a crisp and refreshing, citrus and grapefruit 2009 Seyval Blanc as well as a 2010 Pinot Auxerois with a little bit of residual sugar (6.5g), making ford a nice, quaffable balance. I particularly liked the well balanced 2010 Rose (£9.50) that had nice mineral and creaminess and just the right, light touch of sweetness - strawberry and cream again. Now back to value and price. Paul's argument went as follows: Buying English wine supports the local and national economy and, more importantly perhaps, it is part of the transformation process of sourcing food locally, making food more sustainable and greener (by reducing the distance between producer and consumer). Now, the combination of appealing to patriotism and local produce can only work for the English market, and whether English wine by default is "greener" than imported wine I don't know. I would also like to add that part of the argument of local produce rests on the concept of seasonal food/cooking that probably applies less to wine. Similarly, consumers buy organic, local produce on the assumption that apart from supporting animal welfare and the environment they also get better quality.
Having said that I agree with Paul that a marketing strategy that blends localism, patriotism and a green agenda is the right one for English wine. Even so, quality and value will remain decisive, I would argue. Despite some mixed experiences, I found the EWP tasting a positive surprise in this respect, and I will continue to keep an eye on English wine. Apart from the internationally well received sparklers, there is now also an increasing number of enjoyable English still wines out there - even for some wine drinkers in the UK this may come as a surprise. In a few years time the first English Riesling will hit the market, and perhaps by that time I will also have come across a red wine that I enjoy and find reasonably priced.