Japanese food, sake and wine: tasting the new menu at Tsuru, London
Going out for Japanese food in London is not something I regularly do. This is not because I don't like it. Quite the opposite in fact. It is just that as far as sushi is concerned my heart is lost to a restaurant in Munich that serves high quality fish at very fair prices - and, perhaps more importantly, that I have a Japanese friend in my neighbourhood who treats me to all sorts of delicacies. Unfortunately she will be going back to Japan soon, so I was delighted when Emma from Japanese restaurant Tsuru invited me (and a bunch of other writers) to taste their new menu. So one night in late October I ventured east to the Bishopsgate branch of Tsuru (there is another one near the Tate Modern).
Navigating around the 201 Bishopsgate/Broadgate Tower complex, we eventually found what looked like a welcoming beacon of light in the dark and wet night. I imagine that if you'd walk past Tsuru in daylight without paying much attention you could mistake it for yet another branch of a Japanese chain. At second glance, however, you will see that the design is actually well thought through, creating an understated, modern atmosphere.
Tsuru is run by Kensuke, Emma and Jon, and their mission statement is 'to serve the great, affordable katsu curry and sushi readily available in Toyko'. As Emma emphasised Tsuru also aims to source in an ethical way, i.e. free range chicken and line-caught fish from sustainable resources.
Following an aperitif rosé we were served Aburi Saba, a seared cured mackerel with English mustard. The fish had a great combination of textures, soft and tasty meat under a more crispy skin that looked as good as it tasted. Because of the delicate smoky flavours of the fish I only dipped every second piece into the mustard. This tasty starter was accompanied by a glass of La Gitana Manzanilla, a dry, pale sherry made exclusively in Sanlúcar de Barrameda, that went very well with the fish. I also enjoyed the unusual pairing which I'd not expected from a Japanese restaurant.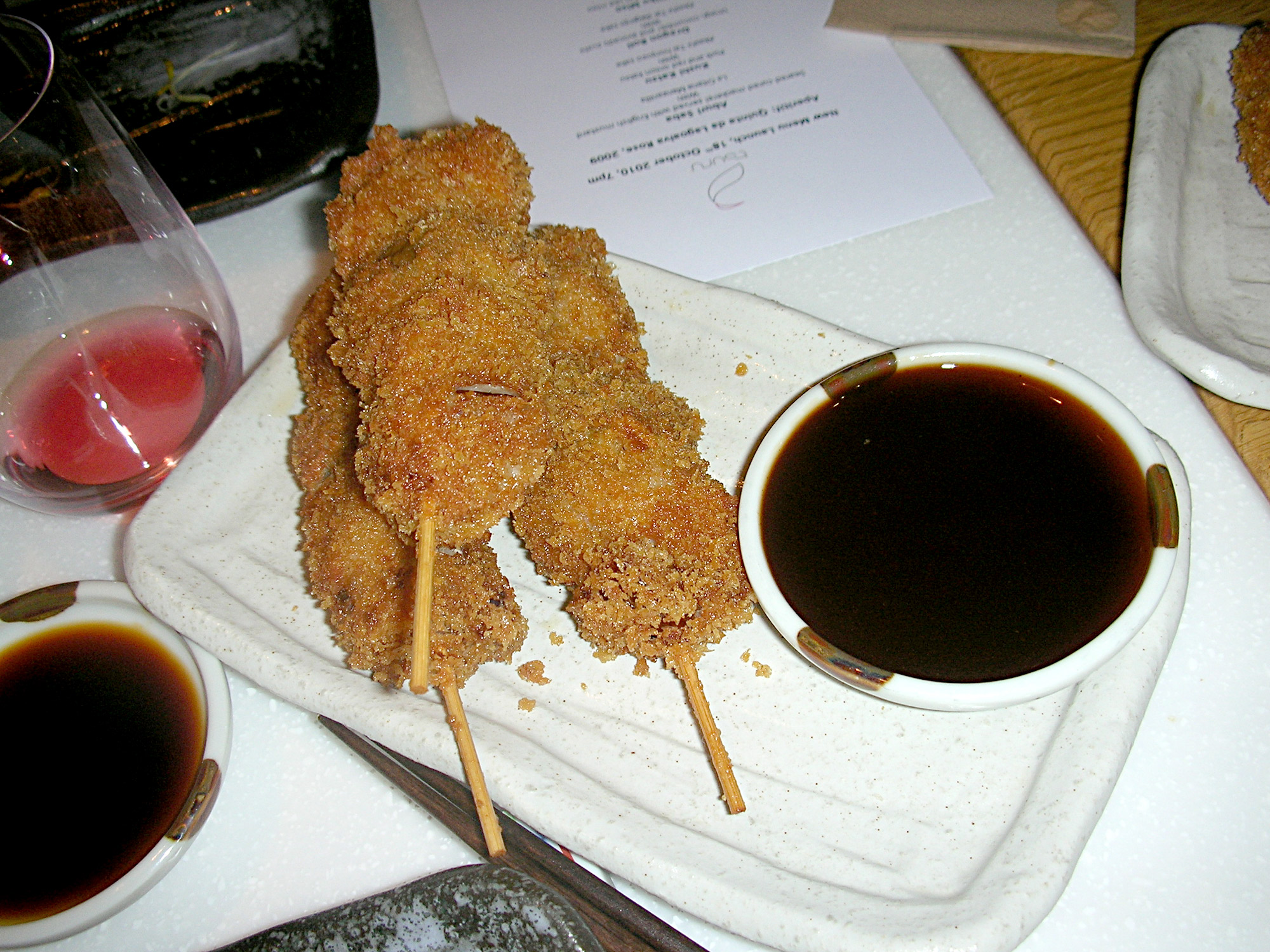 After this excellent starter, we moved on to Kushi Katsu: pork and red onion, coated in breadcrumbs and deep fried on a stick (so that the outside is crisp while the inside remains tender). It is the right kind of food for hungry people like me. The Katsu was served with warm Akashi Tai honjozo sake; not having much sake knowledge I'd be careful to give a verdict here - it was decent, somewhat 'brown' tasting, but felt a little less exciting than the sherry, both on its own and as a match.
If you are looking for great value, the third plate of food coming to our table would be my first recommendation: the Dragon Roll. £6.95 will get you eight large pieces of a roll carefully constructed from unagi (eel), cucumber and avocado. This impressive line-up was decorated with a zigzag of rich, very creamy mayonnaise. Each bite was a soft mouthful of freshness, with the different flavours and textures still identifiable yet blending well together. I am a big fan of maki rolls and these were as well done as any I have had. It came with Akashi Tai daiginjo sake, a high grade sake with ricey texture and aniseed flavouring that was very enjoyable - yet the roll was the clear star in this pairing.
Dish number four was Niku Miso, ground beef in red miso that visually in and terms of texture reminded me a little of bolognese. It was well seasoned and very tasty, but suffered a little from being served on a block of tofu. While the tofu was good there was just a little too much of it (or not enough of the beef if you will), swallowing some of the miso taste. Similarly the New Zealand Pinot Noir was a little too strong for the tofu, while its acidity and spicy finish went very well with the beef. Wine and food (minus the tofu) enhanced each other. More meat or less tofu and this would be another great dish.
Next was a Cabernet Franc, the 2005 La Tunella from Friuli, Italy. A racy wine, the first sip almost gave me a spice flash - which was very necessary as it was served with chicken katsu curry and a bowl of chilli rice. A bowl of rice that in other restaurants would have been a humble side dish at Tsuru nearly stole the show from the curry, with fantastic spicy flavours coming from almost burned garlic (extremely tasty) and shichimi, a Japanese spice mixture containing ingredients such as ground red chilli pepper, roasted orange peel and black sesame seed. Add to that an almond and sesame topping and you will make the Wine Rambler very happy, even more so as the wine was strong enough to stand up to it. I could also see this dish work with a substantial, off-dry Riesling, but the 'spicy' pairing worked very well.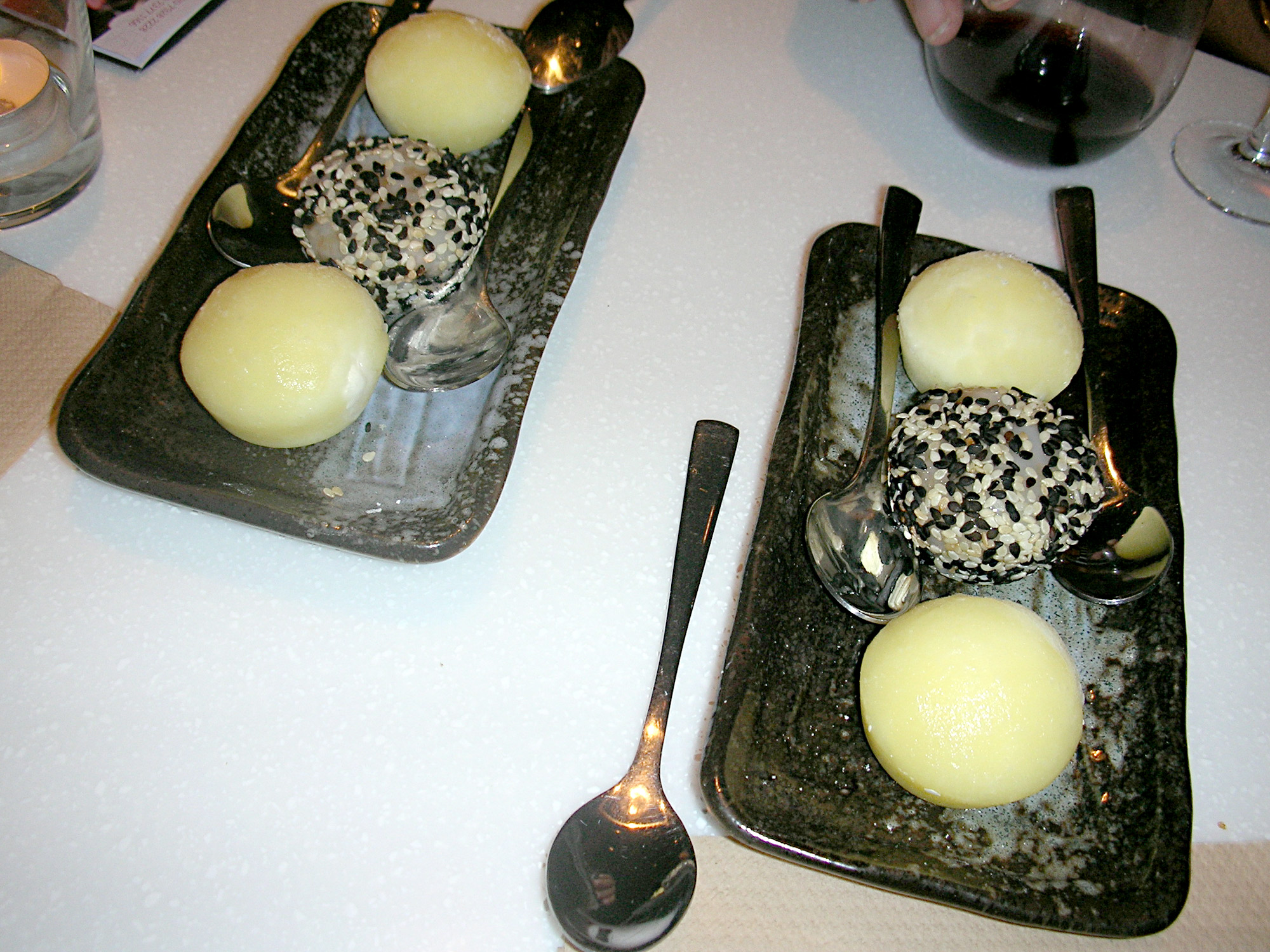 For dessert, we were back to sake (Akashi Tai Umeshu), served with yuzu, green tea and seasame mochi ice cream. Some of my companions felt the sake was a little too sweet, but I liked its almondiness and think that you can never go wrong with a sweet drink to match a dessert. Yuzu is an Asian citrus fruit, apparently related to a mandarin, and it gave the ice cream fresh citrus flavours that were a nice contrast to the creamy texture.
If I had to summarise my Tsuru experience with a list of bullet points, it could look as follows: friendly; well presented; quality ingredients; very tasty; and good value. Obviously, it is easier to write about value if you have been invited to a dinner, but I am sure you will be able to form your own opinion by looking at the menu. I will certainly return, and that is not only to taste the German Riesling on the menu.