London wine merchants: The Sampler
There is a shop in North London / They call the Sa-ham-plar / And it's been the ruin of many a poor boy / And God I know I'm one So there is a shop in North London, and it sells wine. Now just that would not make it special, would it? What makes The Sampler special is not just that it is a cute shop with a dog, that they have a good selection of wine or that they organise tastings and other events. No it is, surprise surprise, the sampling. How many wine shops do you know where on any given day they let you taste a 1978 Mouton Rothschild, premier Austrian dessert wines, some of the top names in German Riesling or some of the finest the US has to offer? At the Sampler you can and it is much fun. And so we went, and had the fun and tasted the Mouton and I fear I shall be back for more. And it's been the ruin of many a poor boy / And God I know I'm one
The Sampler was opened in late 2006 and I cannot believe that I have never ventured there. So when co-Rambler Julian came over to London to celebrate one year of wine rambling in June, we jumped on a train and went off to Islington:
Well, I got one foot on the platform The other foot on the train I'm goin' back to North London To wear that ball and chain
We were received into a shop that does look very welcoming indeed. I was particularly impressed that the wine is partly organised by grape varieties. If I ever where to open a wine shop, this is the schema I would use for organising the wine - variety or character over region.
Obviously, we did have a look at the selection of Riesling and German/Austrian wines, which is pretty good. You will find many a well known name here, including usual suspects such as Dönnhoff, Egon Müller, Fritz Haag, Karthäuserhof, JJ Prüm, Robert Weil and a few others of the great and famous. The same goes for Austria, including Hirsch, Loimer and Jurtschitsch Sonnhof.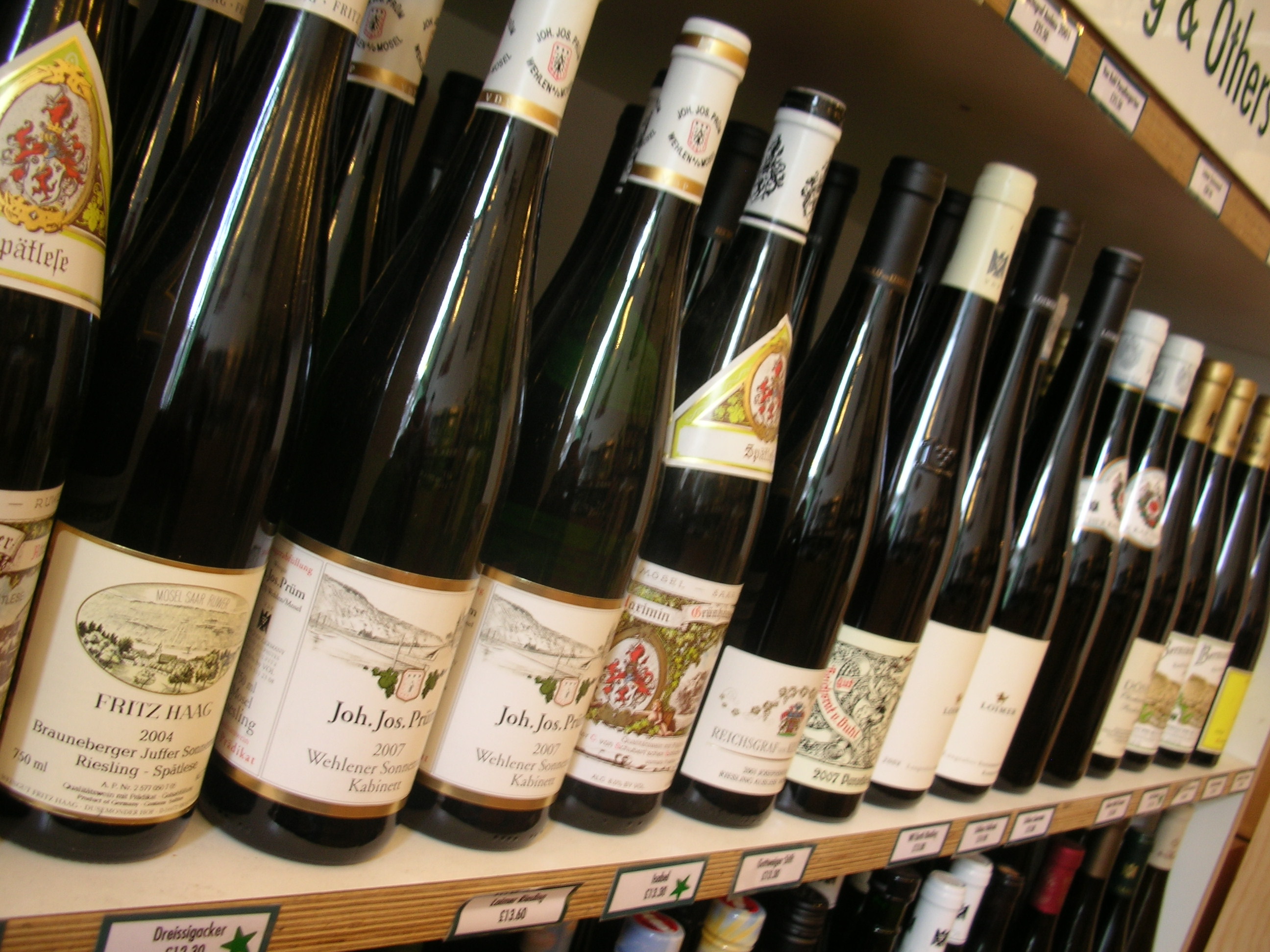 Personally, I would have preferred to find a few more surprises here, perhaps even a winery we had not heard about (or sampled from) before. However, I am aware that it is difficult to surprise a Wine Rambler in this respect - those of you who are not every day spending their kids' inheritance on German wine can be sure to find many surprises, and even we felt tempted by more than a few wines. This time, however, we did not come for the German wine. We came for this: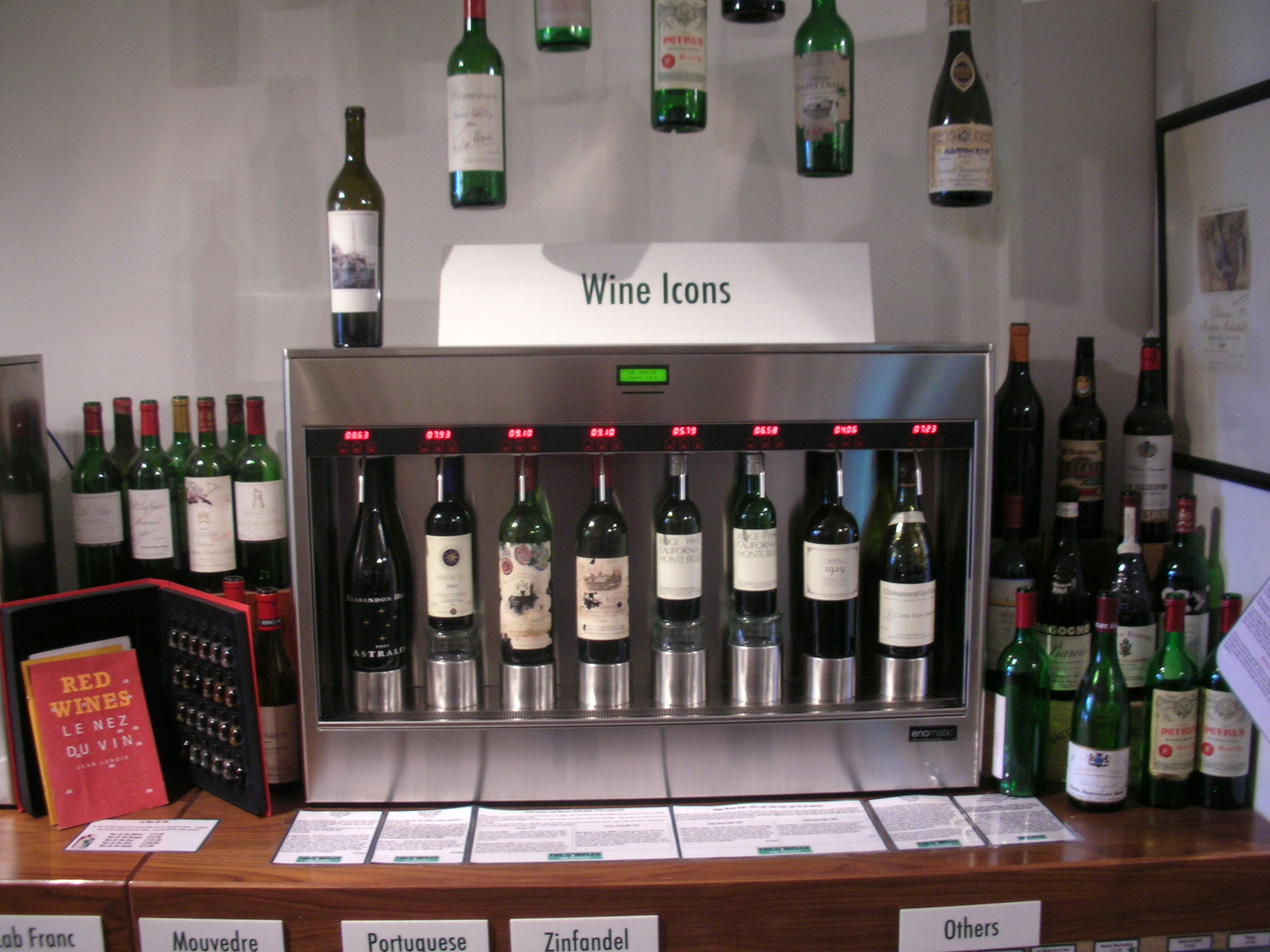 So this is what makes the Sampler special. They have ten tasting machines containing eight wines each. The machines allow you to take samples of what is in the bottle, with the wines being protected against oxygen by a blanket of nitrogen. You pay with a digital card which you receive on your first visit. The cheapest samples cost about 30p, with the most expensive ones being around ten quid at our visit - wines are rotated fortnightly. Now you may say £9.10 for a small sample of wine is insane. And you are right - but how would you ever get to taste wine from a bottle of Bordeaux that costs £195? Also, there is plenty to try here that is less expensive.
Now the only thing a drinker needs Is a sample and glass And the only time he's satisfied Is when he's on a drunk
For our tasting session we skipped most of the Riesling (we drink that stuff a lot anyway) and focussed on varieties and countries we come across less often. This, I think, is what makes the concept so interesting - you can venture into the unusual and it does not have to cost the world. We started off slowly, with a familiar face amongst the Chardonnays - a beautifully structured wine with creaminess and mineral that was just a pleasure to drink from the Californian Au Bon Climat winery. After that, we surely did not stay in our comfort zone for too long. We yet again confirmed some of our prejudice against Italian wine, for instance by sampling the 2004 Bardie le Rose Barolo from Poderi Colla, a wine that was by no means bad, but also not exciting enough, despite Parker's 93 points excitement about 'huge brooding aromas' to warrant the £33, and a couple of others that shall remain unnamed.
We used the chance to compare Pinots from Oregon (the 2006 Pinot Noir Laurène, made by Domaine Drouhin) and Burgundy (Domaine Dujac, 2006 Gevrey Chambertin) and found Oregon winning this one easily. One of the most surprising finds was a Savagnin Blanc from the Jura, the 2000 Arbois Pupillin from Maison Pierre Overnoy. I think we can safely let the Sampler summarise this excellent and very unusual wine:
Another very expressive (and impressive) wine was the 2008 Sancerre Akménine from Sebastien Riffault, an unfiltered Sauvignon Blanc that (at £20.50) may very well have been among the best Sauvignon I have ever tasted. A challenging and complex wine with lots and lots of nut, diesel and mineral that just wow-ed us.
And then, of course, came the 1978 Mouton Rothschild. How to describe this wine? I could say that it had the most lovely cedar and cigar taste you can imagine. I could say a lot about it being sophisticated. Instead, let me just say two things. First of all forget being in awe because of the price or the big name. This is just an immense pleasure to drink, a wine that would so quickly disappear from your bottle that even if you were to drink it alone there would not even be a concern about not being able to finish this. Secondly, after the Mouton we had a very rich dessert wine from Austria, a most deliciously sweet Trockenbeerenauslese Grüner Veltliner from Jurtschitsch-Sonnhof. You would think that this wine killed off the last bit of Mouton flavour on our tongues. Not so though! Even an hour later I had flashbacks of wood, cigar and leather, in the most delicate way. Call that impressive! So, we blew about thirty quid at the Sampler and we enjoyed every minute. It is a great wine shop in its own right, with lots of additions such as tasting events, a wine club and so on. However, just going there to discover new wines, particularly those you would not usually drink, that makes it special.
Oh mother tell your children Not to do what I have done Spend your lives in sin and misery In the shop in North London
Well, there is a shop in North London They call the Sa-ham-plar And it's been the ruin of many a poor boy And God I know I'm one