Mark Oldman's Brave New World of Wine. A Wine Rambler Book Review
When did you last drink Moschofilero, Txakoli, Aglianico or sparkling Shiraz? 'Wine personality' Mark Oldman thinks many customers are stuck in the routine of drinking the same boring Cabernet and Chardonnay. To help them out, Oldman's Brave New World of Wine introduces 46 types of wine beyond the usual suspects, each 'brave new pour' described with anecdotes, recommended producers, food pairing suggestions and all sorts of 'winespeak without the geek'.
Providing wine drinkers with easily accessible knowledge is an applaudable mission, and as I had never read a popular book by a 'wine personality' I happily accepted when the publisher offered a copy for review. Now I am trying to answer the question: can a book about wine be too funny?
Mark Oldman gives the perfect son-in-law, with his boyish looks and blue eyes charm. A Stanford graduate, he founded a dot-com business in 1997 and now lectures and writes about wine. Americans may also have seen him on TV a lot recently. His first book, Oldman's Guide to Outsmarting Wine, was published in 2005.
Introducing wine - Oldman-ised terminology
Oldman clearly likes language, and he makes it work hard for him. Pretty much everything in the book has a special, oldmanised term. The wines he is introducing us to are 'brave new pours'; the celebrities and wine experts he quotes are 'bravehearts'; food recommendations come under 'a loveable feast' or 'locally lusty' if they are about cuisine local to the wine; pronunciation help is of course 'bravely said'; and Mark's recommendations are 'audacious alternatives', for instance Cahors instead of Cabernet Sauvignon.
A lot of thought has gone into how information on wine can be presented to help customers brave the confusing wine world. Each of the 46 chapters comes with a fact sheet that condenses wine knowledge into one and a half pages: How do I pronounce the wine? (Ree-OH-Hah) Is it named after a region or a grape variety? What wine is it similar to? What price range am I looking at and what are reliable producers? Is it a full bodied wine, should I pair it with lighter food – and with what type of food specifically? How can I turn this wine into an event for friends? What is special about it, which key facts should I remember?
Some wine snobs may roll their eyes at this, but from my experience this is what customers want to know – enough to give them some guidance and to enable them to talk to their friends about it, not enough to turn this into serious homework. The book is written with an American audience in mind, meaning that the 46 'brave pours' were selected based on availability in the US market. Oldman perhaps rightly argues that an unusual wine you cannot buy anywhere is not much help for broadening your wine horizons.
Brave new pours?
Despite the US focus, readers from Europe or elsewhere will find useful input too: Moscholfilero, Tawny Port, American Sparkling wine, Vermentino or Cahors for you perhaps? Oldman provides advice on topics such as how to find bargain Burgundy or value Bordeaux, what wines-in-a-box are drinkable or how to approach aged wine or grower Champagne. Among the other wines included are Austrian Riesling, Cru Beaujolais, Rueda, Rosé Champagne, Grüner Veltliner, Prosecco, Torrontés and Muscadet.
Do I see anyone raise their eyebrows at 'Prosecco' being a brave pour? It is probably inevitable that most of us will at least find one wine included that they see as a regular drink. For the Wine Rambler this would be Austrian Riesling and Grüner, two wines I also remember seeing a lot of in NYC shops. Leaving personal preferences aside I do question though what prompted Oldman to include New Zealand Sauvignon Blanc - hardly an unusual, adventurous choice.
Adventurous is a good keyword for another amused raising of the eyebrows I got out of reading Oldman's Brave New World of Wine. Readers are provided with charts listing wines by two coordinates: how expensive and how adventurous they are to pursue. So what's the most adventurous wine you can drink, after 'aged wine' and Madeira? It is, surprise surprise, Austrian Riesling. Highly adventurous are apparently also Grower Champaign, Cahors and Austrian Grüner Veltliner. Austria clearly challenges Mark Oldman.
Outsmarting, outquoting wine
Leaving aside some of these wondrous eyebrow-triggers, the book contains a lot of information presented in an accessible way, including an appendix with food/event pairing suggestions. It might have been more helpful to include all recommendations from the book instead of making suggestions for what to drink for Independence Day.
Oldman dedicates a lot of space to quotes from 'bravehearts': over a hundred wine experts and celebrities (including wine making celebrities) share recommendations, anecdotes or comments. Some of the quotes are downright funny, others informative and some mildly amusing, but overall there are too many and often they only repeat what has been said in the text. Quotes can take up as much space as the wine descriptions themselves, and even though I am delighted to read that Jodie Foster drinks Château Pétrus I am not sure this does more than playing to the cult of the celebrity.
Or who knows, maybe I am too puritanical. I let you be the judge:
Sterling Napa Cabernet Sauvignon I drink occasionally when I'm with a couple of friends at home relaxing or on the road after a show. - Busta Rhymes
When I was presenting my wine at a Costco store, I met this young married couple. I told them, 'Be careful, don't store the wine in your car.' And they said, 'No, Mr. Fleetwood, we have a cellar.' People's knowledge of wine has so changed. - Mick Fleetwood
Useful beyond the entertaining are the many general recommendations Oldman gives to his readers. He suggests red wines that can go with fish, dispels myths such as that Riesling is always sweet or recommends drinking red wines lightly chilled. Such tips may not surprise our wine-savvy audience, but Oldman's Brave New World of Wine has a lot to offer for those starting out in their exploration of wine.
Witticisms know no such thing as overkill
A valuable asset in this respect should be Oldman's writing that can be engaging and funny. Only Oldman would describe Txakoli as 'a spritzy, pleasantly sour rush that will revive you faster than Eskimo-kissing a round of smelling salts'. The description of Montepulciano d'Abruzzo starts with the following paragraph, describing a sentiment that I guess many of us would share:
I'm convinced that deep in the bowels of a dusty wine cellar, in the sinister flicker of candlelight, there exists an annual meeting of the "Secret Society to Confuse Wine Drinkers." Under the shadow of the group's secret crest-consisting of a question mark trapped in a wine bottle-and dressed in hooded robes, the members have dreamed up curiosities such as making the "extra dry" designation of Champagne mean sweeter than "dry"; Petite Sirah be neither petite nor Syrah; "Fumé Blanc" and "Sauvignon Blanc" mean the same thing; and wine labelled as "private reserve" and "special selection" not necessarily be distinguished wines at all.
These are not singular examples though. The whole book is written by following the principle that there is no such thing as overkill when it comes to the number of witticisms per paragraph. For instance, Rosé is 'misjudged as the vinous equivalent of Mariah Carey's hemline or Donald Trump's hairline' and Prosecco is 'so instantly likeable and uplifting that I nickname it Prozac-co'.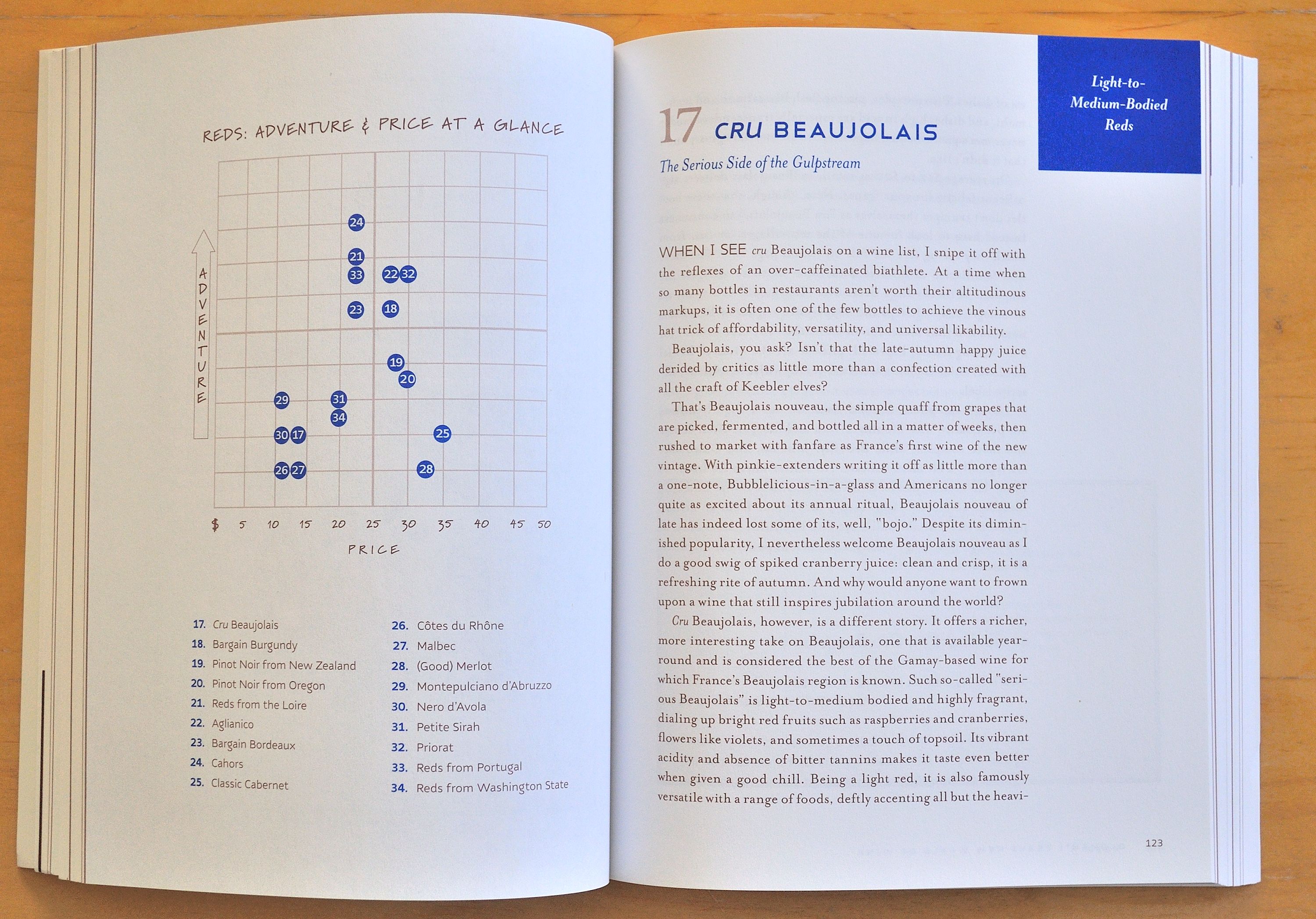 Oldman is on a roll, an unstoppable force firing out jokes faster than a Gatling gun in overdrive or a stand-up comedian on speed. Never satisfied with hitting the nail on the top with a bon mot such as describing Petite Sirah as 'dark and intense as a dominatrix's boot', he has to get the machine hammer out by following up with:
Just as the passion for patent leather inspires a cultish following, so does Petite Sirah, although as far as I know the two aren't necessarily pursued at the same time by the same people.
Just once is never enough, and so Grüner Veltliner is introduced with the following sentence: 'Recently I resolved to locate my inner von Trapp and get in touch with my Teutonic tendencies-in a phrase, to get my Österreich on.' In this rampage of fun Oldman sometimes produces strange likenesses that should trigger alarm sirens from any copy editor. Take this example:
The book provides escape hatches for enthusiasts caught in a Stockholm-Syndrom-like dependence on mainstream wine types.
Overly oaked - overly joked?
Oldman can write well, but especially if you read more than a few wine descriptions in a row you better bring your joke proof vest. A little less may have been more here. Perhaps this book is just not meant to be read from cover to cover as I did. For those new explorers of the wine world it would be too much knowledge to process anyway and more experienced readers will probably pick what sounds particularly interesting. Those who like their wine prose celebrity style or nicely pun-fried will have more than a laugh though.
In a way I feel Oldman's Brave New World of Wine is like a potentially great wine that has met a winemaker perhaps too excited about oak barrels. Somehow that seems quite fitting seeing as Oldman writes for an audience held captive by overly oaked Chardonnay - an audience who might enjoy the overly joked style as well.
Mark Oldman's book will no doubt be a very useful resource for many wine curious people, and as such I'd like to recommend it. Whether or not you enjoy the style may be a matter of personal choice - the quotes should allow you to decide for yourself. If you can handle it, Oldman's Brave New World of Wine will be a good guide for what should be an interesting voyage of wine exploration.
Mark Oldman: Oldman's Brave New World of Wine. Pleasure, Value, and Adventures beyond Wine's Usual Suspects. W. W. Norton & Company 2010. $19.95