Matching food and wine: sparkling wine and scallops (seared, with avocado purée, peppered port-melon and avocado toast)
Ever since I moved to the UK I have been in a constant love affair with scallops. I had them before on a few occasions, but living in London makes it so easy to get fresh, hand-dived scallops for a reasonable price that they became a regular guest in my kitchen. Today I want to share a recipe that, I think, goes perfectly with a good sparkling wine: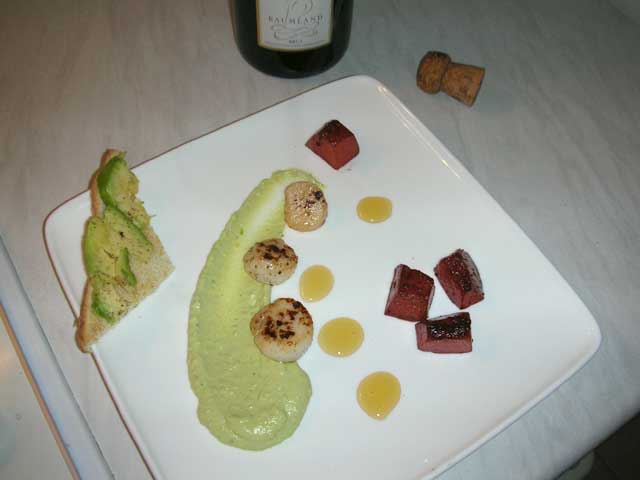 Matching food and wine is rarely an easy task. The basic rule of fish=white, meat=red, for instance, is sometimes correct and sometimes wrong, but even when it fits it is way too general to be really helpful. Would you know whether a dover sole goes better with an off-dry Riesling, a full-bodied Pinot Blanc or an Austrian Grüner Veltliner? There just is no answer to this question as it mostly depends on how you intend to cook the fish and, in particular, what sauce you are going to serve with it (the same goes for meat, btw). What I think works best is to think about the different elements of your dish, how they will taste and what type of wine could go with it. You are serving a rich, creamy sauce? A rich and creamy Chardonnay could be a good partner. Or you are going for a roast game bird with herbs - why not have a lighter Pinot Noir with toasty aromas and herbal notes? Your wine merchant should be able to help you here. And the Wine Rambler has a few suggestions too, for instance about scallops, avocado and sparkling wine.
Think scallops, seared in butter. The scallops will be served on a avocado purée (with a hint of wasabi and lemon juice) and accompanied with peppered melon pieces, slowly cooked in port. And there is even more avocado, thinly sliced on garlic toast.
First, you need some port (sherry will also do, especially if it is not too dry). Slowly heat up the port in a pot or pan and add pieces of a melon (cut to about an inch in diameter) and ground pepper. Continue to cook on low heat, slowly reducing the port, - and then add some more.
Reduce again, ideally till the melon pieces are really tender and the port has reduced to a very thick and creamy consistency. If you do it slowly, this should take over 20 minutes and, if you keep the heat low, not get the melon pieces mushy.
While this goes on, peel one of your avocados and cut into thin slices (taking out the seed first, of course). Toast your bread, let it cool down a little and then rub some garlic over the bread to add taste. Layer the avocado slices on top of the bread, add pepper and salt and cut into halves or quarters.
Peel the second avocado - the riper the better - and press through a fine sieve. Mix with crème fraiche, salt, pepper, a little wasabi and lemon juice. When everything is ready, fry your scallops in a little olive oil, adding butter after about a minute. Sear on both sides, adding salt and pepper to taste. And now the only thing that remains is finding a good way to present the food: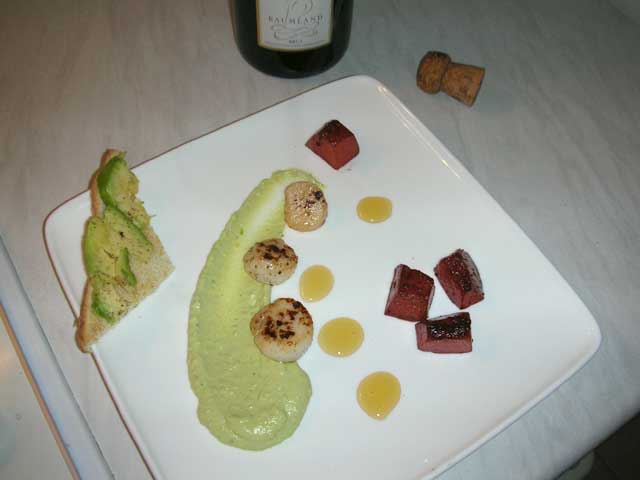 While I think the approach I have taken here works quite well, I am not too happy about all the details. First of all I added some honey, which I found in a recipe - but it did not add very much in terms of taste and was not well placed on the plate; there should have been one drop of honey per scallop perhaps. I also think I could have left out the 'top' piece of melon.
I tried the same recipe without the honey a few weeks later, even leaving out the avocado purée (mostly because we were in a hurry), and it looked like this: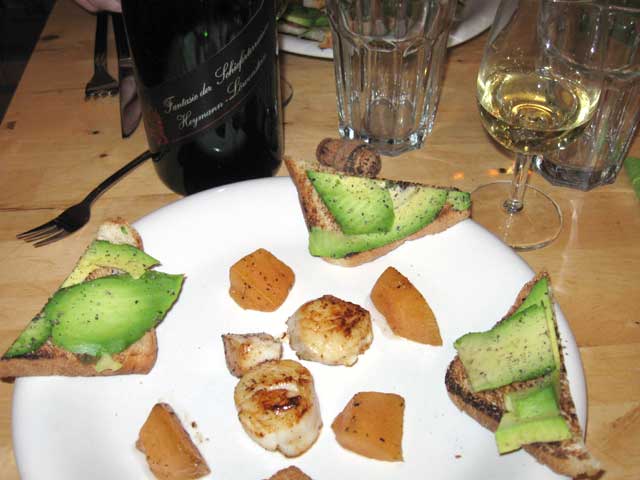 On both occasions we served the scallops with a German sparkling wine. The first time it was the lovely Cuvée Katharina, made by the Raumland winery: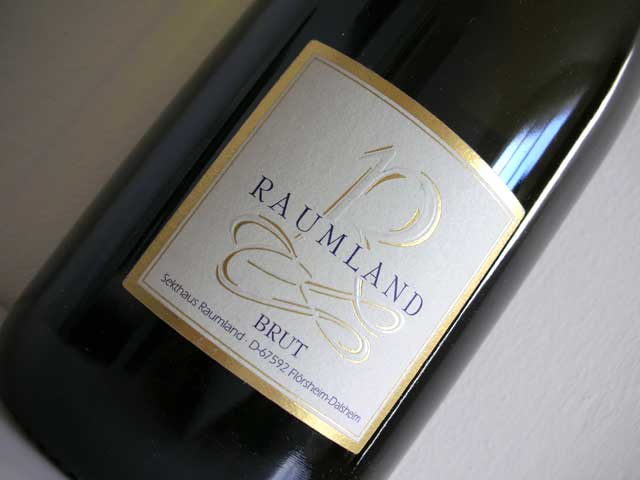 Why do I think this dish works so well with sparkling? For me this is to a large extent about the melon: the acidity together with the amazing freshness of the bubbly mix very well with the peppery melon pieces, both enhancing each other (be careful not to add too much pepper though). The wine also has enough acidity to go with the lemon and wasabi in the avocado purée, but is soft enough not to alienate the creaminess of the purée (this obviously only works so well if you do not go for a fresh acidity-bomb or a heavy, oaked sparkling). Sparkling wine and seared/fried scallop works very well anyway, I think.