An evening with Riccardo Prosecco at the Secret Larder
No thanks, I am really not that keen on Prosecco. Admittedly, this is an odd sentence to start a post on a Prosecco tasting. However, it describes the attitude I have had towards Prosecco for a long while, and for two reasons. First of all I have a long-standing dislike of sparkling drinks, an antipathy that, at least with regards to sparkling wine, it took several years of drinking Riesling with its high acidity to eventually overcome (have a look at the Wine Rambler's sparkling adventures). Second, I was socialised on alcohol in Munich. This put me off Prosecco because in Munich it is the drink of choice for a certain strata of hoity-toity, would-be posh/jet-set, would-be in-crowd snobs (the German word 'Schickimicki' is so much more precise) who make my toe nails stand up; in addition to that, Prosecco is so popular there that I was often given the cheapest plonk you can imagine because everyone wanted to serve Prosecco, even though they had neither money nor taste. So to sum up, I am definitely not the person you would want to invite to a dinner where only Prosecco is served.
Luckily for me, the people from Azienda Agricola Riccardo were brave enough to do so nonetheless. And with surprising effects.
The Riccardo brand is new to the UK and in order to get more widely known, they are organising a series of events for food and wine writers, which is how I came to be invited to a Prosecco evening at the Secret Larder supper club. Secret Larder is run by James Ramsden, who together with his sister (and occasional support by his brother) runs a restaurant in his kitchen/living room - an increasingly popular phenomenon here in London.
James was given the task to come up with several courses to match the different Proseccos, a job in which he admirably succeeded. From the rosemary meatball appetizer, the refreshing rocket salad or the perfectly fried fillet of mackerel on artichoke purée and shallot marmalade up to the pudding (peaches caramelised in Marsala topped off with a zabaglione - the right kind of decadent), the food was excellent and went very well with the wines.
Perhaps even more than the food I enjoyed the atmosphere, which was characterised by a wonderful balance between professionalisms and homeliness - after all it is a strange experience sitting in somebody's living room, watching them cook and then not sharing the food with them. James and his brother certainly managed to keep us very comfortable nonetheless (and joined us for coffee after their work was done).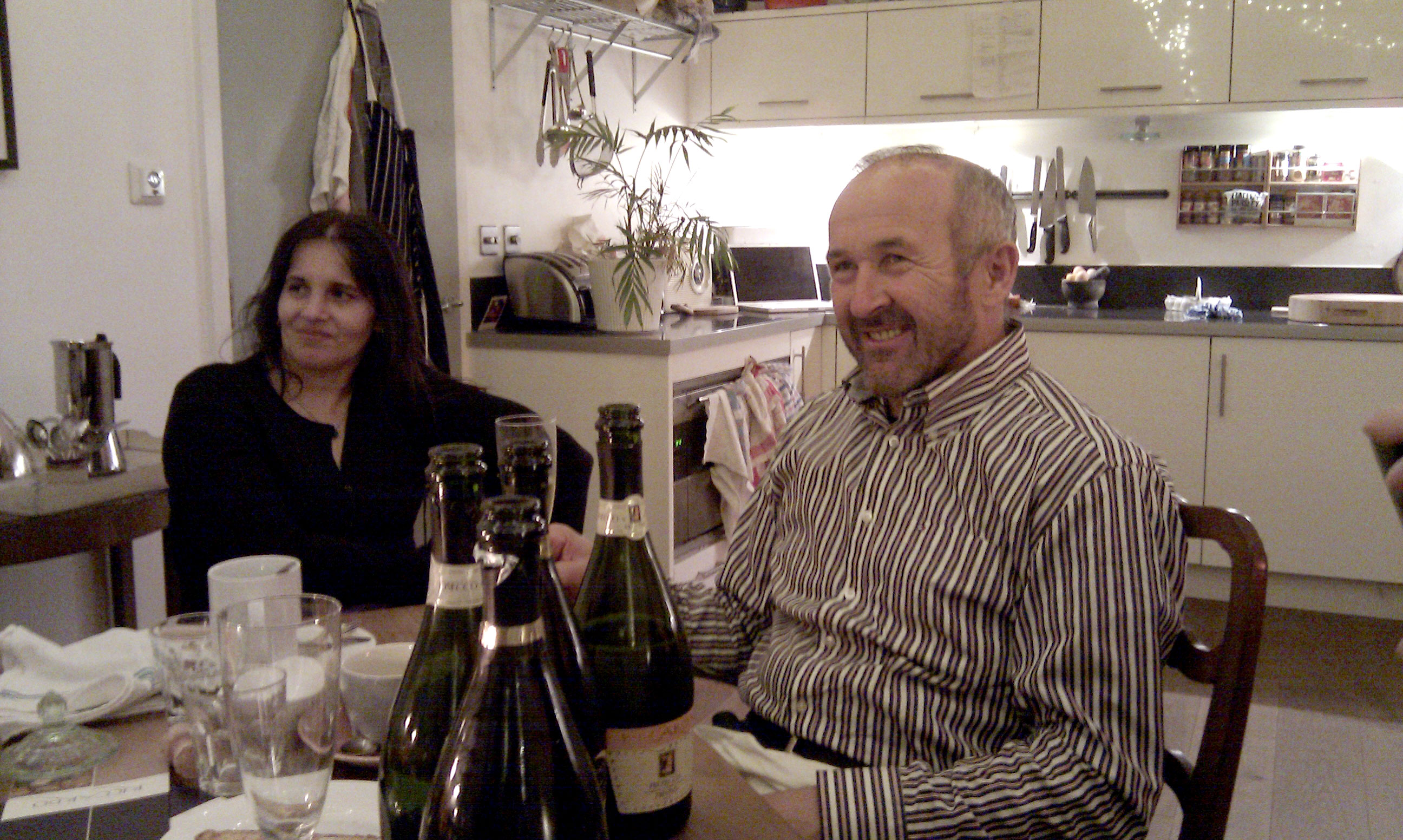 Others joined in the fun a little late too - the owners of the winery missed the first few courses because of a delayed flight. By the time they eventually arrived we had already sampled some food and even more of their Prosecco.
Prosecco is not only the name of the sparkling wine made in northern Italy, it is also the name of the grape the wine is (mostly) made of. Or it used to be, until the name was change to 'Glera' (an old synonym) in 2009 to avoid confusion with the recently introduced protected designation of origin 'Prosecco'. Why do people care about protecting 'origin'? If you buy Parma ham, for instance, you would probably expect it to come from Parma - which is why there are now a myriad of national and European laws that regulate how products can be named.
When it comes to wine, many countries have a classification system that defines origin and also quality requirements. Until 2009, Italian Prosecco used to be classified as either D.O.C. (Denominazione di Origine Controllata, or Controlled origin denomination) or I.G.T. (Indicazione Geografica Tipica). Now the historic core of the Prosecco area, between the towns of Conegliano and Valdobbiadene, has been elevated to the higher quality standard of D.O.C.G. (or Denominazione di Origine Controllata e Garantita), with the 'surrounding' areas incorporated into D.O.C.
Supporters of this scheme, such as Riccardo Prosecco, argue that it guarantees quality, for instance by restrictions on the maximum yield of the vineyards, and ensures that customers know where their wine comes from. Looking at the German wine law, the Wine Rambler has mixed feelings about this - there are winemakers who produce outstanding wines, but are being denied the use of higher classification levels for their wines as they are seen as 'atypical' for the region (see for instance Hanspeter Ziereisen). Control of regional and quality classification schemes is also a question of profits, which is important to keep in mind. Having said that, I welcome all classification systems that help consumers to understand where a product comes from, how it has been made and what it is made of. Azienda Riccardo make a good effort with regards to this as they are the first azienda in the Valdobbiadene to make their whole food chain traceable: all bottles are numbered, and by entering that number on their website you will get detailed information on its origin and contents.
After this legal digression, lets go back to the main bit of the story, the Prosecco. In a way the most interesting of the four different sparkling wines we tried was, well, not a sparkling wine: Riccardo's still Prosecco or Vino Tranquilo. This was an interesting reminder of the fact that originally Prosecco wines were non-sparkling, whereas now only about 5% of all Prosecco is still, and almost all of that is consumed locally. The Vino Tranquillo is a refreshing wine (with the odd bubble), light and lively on the tongue, with a flowery nose that also featured apple. A very summery wine, it went well with the mackerel and the artichoke purée (and artichoke is notoriously hard to match).
Unfortunately, I left some of my notes behind at James' place, so I can only be brief on two of the other Proseccos we had, Riccardo Prosecco D.O.C.G. Extra Dry, and the Riccardo Prosecco di Treviso D.O.C. dry. With regards to both I remember lots of apple and pear on the nose, good balance and a lively and refreshing character. This refreshing, light nature is, after all, what the 'ideal' Prosecco delivers as opposed to the 'ideal' Champagne with its age-worthy complexity, and both Riccardos were really good at this.
Now there is a reason I mentioned Champagne - we had, after all, a fourth Prosecco to try, the Cartizze (see picture at the top of this posting). Cartizze Prosecco comes from the hills of Cartizze, a vineyard that is sometimes called the 'Grand Cru' of Prosecco, with soil and microclimate that is seen as ideal for Prosecco. The Riccardo Cartizze certainly lived up to this reputation, a sparkling wine with great structure and elegance and a complexity that I have not yet come across in my (albeit limited) experience of Prosecco. Combining depth and refreshing fruit profile with a pleasant creaminess it was certainly the highlight of the evening (even beating James' excellent potatoes - I really loved them).
If you meet some of my Munich friends and tell them that I spent an entire evening drinking Prosecco they will be surprised, and even more so if you were to tell them that I really enjoyed the whole experience. Well, I did - also because of the company -, and I was particularly surprised how well food and wine played together. While I had learned on previous occasions in London that there is Prosecco I really enjoy, this was a new experience for me. Go and try it!