Sometimes, a wine tasting among friends turns into an unexpected wine and food orgy. Of course, this could never happen to a moderate and austere German like me, not even with Denise, the Winesleuth, and Douglas, of Intoxicating Prose fame, coming to visit. Denise had been given a couple of German wines by a trade representative, and I had suggested to top that up with a few more wines to set things into perspective. Nothing heavy, just a light evening with a bit of wine and food fun among friends.
We started with a German sparkler, the Raumland Riesling Sekt brut. 'Sekt' is what the Germans call their sparkling wine, and Volker Raumland has an excellent reputation for making sparklers, so much so that many top wineries in Germany trust him with turning their grapes into Sekt. This non-vintage Riesling Sekt, the cheapest in the Raumland range, was made according to the methode champenois and disgorged in 09/2009, creating a wine that is like being struck by a well balanced and expertly-handled sledgehammer made of mineral and fresh acidity.
Or, if you leave me to open the bottle, it is more like trusting Laurel and Hardy to look after your nitroglycerin depot. There are no pictures of what happened, and that is a good thing, but let's just say that lovely aromas of sparkling wine were present all around the table and beyond (as Douglas commented laconically on Twitter, 'it's foamed on the carpet, actually'). This is the sanitised picture for home use; no carpets have been foamed in its production:
As you might expect from a sparkling wine made from a Riesling, the Raumland has very focussed, almost razor-sharp acidity, firing bubbles left right and centre. It was so sharp, Douglas was a little confused at first. After adjusting to the firework in our glasses, we discovered a wine with a fine, elegant nose and great mousse. A concentrated wine, the Raumland Sekt combines lime, green apple, mineral and acidity into a blend of immense and pure freshness, with a hint of German austerity to it perhaps.
We tried various cheeses with the Sekt, but also sausage and pate from the selection of food Denise had brought with her. Douglas felt the Sekt would make a 'provocative food match' with its acidity. After all the talk about food, we moved to the dinning table and had a salad with bacon, apple and walnut to support the two German wines Denise had been given to taste.
First came the German Pinot Grigio. Actually, this is wrong on so many levels. First of all, the Germans call this variety 'Grauburgunder'. Secondly, if you want to call it Pinot Something, it would be so much better to use 'Pinot Gris' as the German way of doing this variety produces wines that can be quite different from their Italian counterparts.
Still, we are looking at the D:vine Pinot Grigio, 2008, not Pinot Gris, made by Winzergenossenschaft Moselland, Pfalz. It retails at £4.99 (Asda), so you should not expect a wine to excite the aficionado, after all the wine in this bottle would be worth less than £1 (deducting margins, taxes, shipping etc.). This buys you a light (11.5% alcohol) and floral dry wine with some tropical fruit and lemon-acidity. What it does not have is much in terms of complexity or depth, and it almost bids its farewell to you with a hint of sweetness mid-palate. This actually works in the D:vine's favour, making you go back to the wine without really noticing that you drink it. Personally, I would not buy this wine, but if you consider the price and an audience that might prefer non-offensive, light and quaffable wines it is not such a bad thing.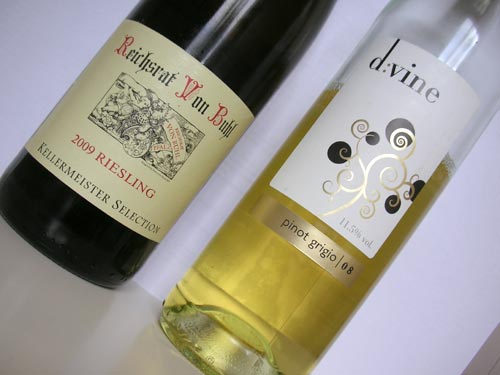 The second wine came from Reichsrat Von Buhl, an estate from the Pfalz, the 2009 Riesling Kellermeister Selection (again 11.5% alcohol). At more than twice the price (Laithwaites £10.49) and coming from a highly rated winery you would expect it to be a lot better than the Pinot Grigio. Actually, we found it disappointing. Yes, it features an enticingly fruity nose, very flowery, with mineral and loads of exotic fruit - so much so that Douglas described it as 'a little flirtatious'. However, on the palate it was almost as if we had a different wine: flat, unexciting, outright boring. For about half the price it may have just been acceptable, but for over ten quid you can get several levels of quality better than this.
Now I wanted to show my guests a real German Grauburgunder, so I opened one made by the Wittmann winery based in Rheinhessen. Or so I thought, because in a moment of confusion I had grabbed the wrong bottle, Wittmann's 2008 Grüner Silvaner. I will not repeat my review from last year here (see the link); instead, I quote Douglas who described it as having 'considerable depth: almond and hint of sugared lime'.
Now it was time to move to the reds. As it happened, I had a bottle of a 2005 St. Laurent from the Knipser winery open. A very well made red wine of dark violet colour that was hiding its muscles under a surface so polished that I felt it had almost gone a step too far, so silky was the experience. Denise described it as 'sausage, vanilla and butter', while Douglas called it 'polished, with fug of vanilla mid palate'. I have to admit I did not get that much sausage from the wine, but then I was busying myself with the actual sausage on the table (the Knipser is the bottle bottom-left):
Next it was time to bring one of my favourite winemakers into play, Moselle based Markus Molitor. If you think that this meant we switched to a fruity Riesling you could not be more wrong. In fact, we opened a 2001 Pinot Noir from the Schloßberg vineyard.
German Pinot Noir, nine years old and from the cool Moselle region, what's that all about, you may ask? I could describe this wine in my own words, but then I have done that before (see above link). Instead I quote Denise and Douglas: 'Markus Molitor from the Mosel, '01 pinot noir, just amazing wine, velvety, good acidity, well balanced, lifted fruit, v. good'; 'autumnal notes on the nose, black truffle, savoury nose, for burgundy lovers'; 'lifting fruit out of forest decay = good match with young grouse - truffled? A revelation from Moselle'; or 'Markus Molitor's Pinot Noir Trarbacher Schlossberg has an intimidating punt - yes, you heard me, intimidating punt'. I just love the bottle! And the content.
After the Moselle red, we did indeed go for a Riesling from the same region: Martin Müllen's 1994 Kröver Letterlay Riesling Spätlese halbtrocken, a half-dry late harvest Riesling, at 10.5% alcohol.
The nose showcased typical elements of an aged Riesling: kerosene, paraffin and menthol, with honeyed petrol notes. While the wine technically was half-dry, the age made it taste almost dry - full of walnuts, but also lychee and dried fruit. 'Vicks VapoRub', exclaimed one of my companions, almost in excitement. This is not a wine for everyone, for sure, and I am certain Mrs Munich Winerambler would have called it an 'old stinker'; but it was a damn fine old stinker, if you ask me.
After all this stinkiness, something sweet was needed to finish off the evening - and us, of course. Whenever I think of sweet Riesling, the lovely Haart Rieslings come to mind, so I opened a bottle of the 2008 Piesporter Goldtröpfchen late harvest Riesling.
Again, I am not repeating my previous review. Instead, I quote Douglas: 'Finishing Sunday sojourn w/ Reinhold Haart's Goldtropfchen Spatlese - iron fist in velvet glove
Does that sound like we had an excessive evening? Not at all, I would argue: