Outtakes and B-Sides: A roundup of 2010 wines
My co-rambler Torsten is an emperor of efficiency, which is also the reason why the credit for the German engineering of the Wine Rambler's digital wheels and cogs, as well as its clean and orderly counter tops, belongs exclusively to him. I, in contrast, have been known to be derelict in my duties, and a number of wines that were tasted on my kitchen table during the past year never made it to the blog, mostly because I had neglected to take meaningful notes. This posting is their second chance, so it is emphatically not a collection of second-class wines, but a motley crew of high and lowly, united by one rambler's lack of organisational skill. It goes without saying that these short notes that I later worked out from memory should be taken with several grains of salt, rather than the one grain we require with our regular reviews. You'll also notice that the photography belongs to a simpler time.
I tried to group the wines into sections to provide some kind of thematic thread, and there'll be a little musical break halfway through in order not to make it too dreary a read. Here we go.
Lest we forget - some more good ol' boys
I'd like to start with a few aged wines, purchased mostly, and to Mrs. Munich Wine Rambler's intense annoyance, on eBay.
The first, a 1990 Cote-Rotie from Ozier Fils was, well, interesting. A smoky bacon assault on the nose that I was not prepared for, dried herbs, overripe cherries. On the palate, dried herb aromatics again, surprising sweetness of fruit, but also raw meat, decay, ash. Impossible for me to judge, as I know nothing about the northern Rhone, but a mustily emotional wine whose life story I would have loved to know. Not for everybody, that's for sure. A deeper well.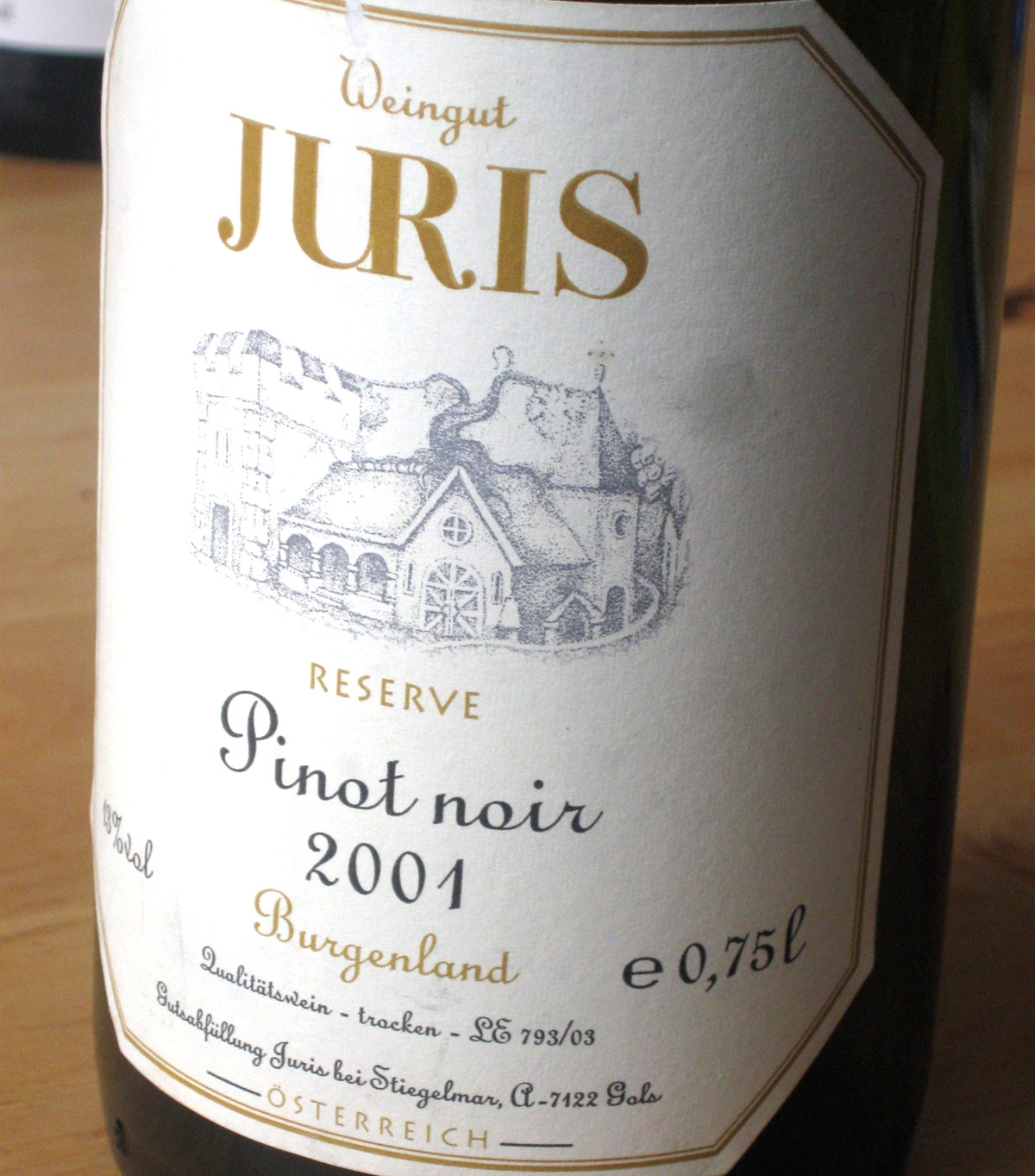 The 2001 Pinot Noir Reserve from Juris, a winery of Austria's Burgenland region, had been a little blunted by bottle age (again, keeping in mind that I have no idea in what conditions these bottles had been kept before purchase), and could be described as autumnal, but more of an early November brown than an October gold. It didn't seem to have the class or backbone to hold up much longer. I love aged Pinot though, and as a food companion, this was still great fun. Enjoyable.
Schloss Lieser's three-starred 1999 Auslese from Lieserer Niederberg Helden was the coup de grace at a Wine Rambler full committee evening, so I could not possibly let it go unnoticed: A lush, thick, oily, ripe, very minerally Auslese with a hint of bitterness in its finish. Great.
Easily the most convincing was Martin Müllens Riesling Auslese -3045- (no, I don't know what that stands for either) from 1994 - what I remember is a perfect example of a balanced and deeply mineral Auslese, with no signs of age other than a lovely complexity and a sense of settled-down tranquillity, even despite its raciness. A deeper well.
Finally, one that would not automatically qualify as a good ol' boy numerically, but presented itself rather more oldish than I would have liked, and so is forcibly relegated into that category: Van Volxem's 2003 Wiltinger Kupp. Made in Van Volxem's style of those early years, which was a bit more on the sweeter side of off-dry than it is now, this one has not taken the direction I would have liked: Yeasty, malty, very warm mouth feel, interesting cappuccino notes, but also an off-putting limpness and slackness, not much fruit at this stage. Not a revelation, but then 2003 was an insanely hot, immensely difficult year for German winemakers (But since they declared it an outstanding vintage back then, I'm not inclined to leniency either). Decent.
The musical choice to end this section is obvious. It has to be Jerry Garcia's legendary 1970s alternative-bluegrass band Old & in the Way, here with their wonderful take on "Wild Horses". Good ol' boys indeed.
[video:http://www.youtube.com/watch?v=sgH3vGeL_iY&feature=related autoplay:0]
Memories bubbling to the surface - two more sparklers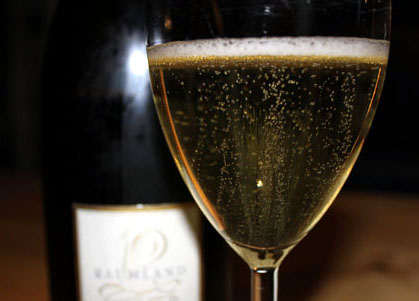 One, the Wilhelmshof Pinot Noir Blanc de Noirs Brut from 2002, was another eBay purchase. Interestingly, some red berries and Swedish cloud berries - which I had once, and have loved ever since - in the smell, as well as a musty component. Ripe fruit and subdued bubbles on the palate, signs of age, yes, but not unpleasantly so. Notes of slightly over baked fruit cake and honey rounded it out. Enjoyable.
The other is one that would definitely have deserved a proper review: The 2004 Chardonnay Prestige Brut from Rheinhessen's sparkling specialist, the Raumland winery. Ripe, nutty, yeasty, very creamy, very dry. A very serious sparkler to go with food. Great.
In praise of 2002 Bordeaux
Yes, I do know that 2002 was a distinctly lacklustre vintage in Bordeaux. But the two specimens I happened to examine this year were both successes, so I see it in a more kindly light. Besides, supposedly bad vintages make great bargains for us eBay purchasers.
Chateau d'Agassac, a Cru Bourgeois from the Haut-Médoc, was seriously good: Fresh cherry nose, bit of leather, pine wood, the works. Good grip and structure, but smooth tannins on the palate, great balance. Very convincing and classy. Great.
Chateau de Pressac, from Saint-Emilion, was a bit more of a crowd-pleaser, with plum and blackberry notes and chocolate, but kept from being too banal by strong acidity. A more international style, but also convincing. Enjoyable.
B-Sides
Wines from producers that we have already featured with other wines from their portfolio which have somehow dropped off the blogging schedule, mercifully in the first case, unfortunately in the second.
Weingut Hofmann, Röttinger Feuerstein Silvaner Kabinett trocken: Artifical fruity-yoghurt nose, cheap passion fruit aromatics in a light wine. Pleasant, but not reminiscent of Silvaner, and thus sadly misguided. Much as I enjoyed their Tauberschwarz, a rare and original wine, this here ain't no part of nothin', as they say in the American south. Boring.
Then, two more wines from our friend Lukas Krauß: Pinot Gris "Zwei Hüte" (two hats) and Riesling (also two hats). Both are surprisingly heavy-hitting whites, round and impressive in their way, but not entirely to our taste due to their overpowering bodies (decent) and the slightly generic peach aromatics in the smell, but still (or precisely for those reasons, rather) two very good food wines, or should we say chicken wines, as you can see.
Loose ends and resolutions
We have a loose end to tie up regarding the greek wines we tasted courtesy of Markus Stolz (@elloinos), whose mission to promote the new generation of Greek wines we may or may not have helped with a long and winding review of one of them and and a corresponding German song.
Of the other wines he has sent us, we would at least like to mention one white, the Anemos 2000 from Palivou estate: Ripe pear, flowery meadow and some almonds in the nose. The palate is soft and round, warmly alcoholic, warm notes of hay, herbs, even a hint of minerality, certainly a pleasing lack of artificiality. Not bad at all, I just missed a bit of a bite and a bit of a grip. A grilled fish with some herbs would obviously do a world of good when you serve the Anemos fairly cold. Decent.
Finally, another small piece of a resolution fulfilled (bringing us up to 73%, presumably): A 2004 Savagnin from the Cotes du Jura, made by Régine and Jean Rijckaert, "Les Sarres": Spicy, somewhat oaky, nutty, slightly oxidised notes (direction of dry sherry, but not nearly there), fresh acidity, very gripping and original. I am always a bit intimidated by the French style of white wine - more full-bodied, more robust, using barriques for roundness rather than for roast flavours - so that I find it so much harder to judge quality than on our own Riesling home turf. But I was fairly impressed by this one. A deeper well.